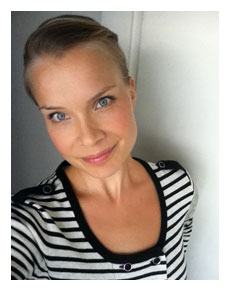 Maria Laitinen – blogger and stylist behind ScandiFoodie – was born in Finland and moved to Sydney five and a half years ago. Her food philosophy is heavily influenced by her Scandinavian background, making her a tireless promoter of Nordic cuisine.

We chat to Maria about the similarities between Australian and Finnish cuisine, the mysterious-sounding "stinging nettle soup", and why she started a food blog.

You're originally from Finland. What was your main motivation for starting your blog, ScandiFoodie, aside from sharing your cooking experiences with your parents in Finland?
I thought it would be a great way to motivate myself to cook different foods. Even some of the most traditional foods from Finland I had never made before.

What was it like growing up in Finnish Lapland and what effect did it have on your culinary tastes?
The climate in Lapland is incredibly harsh. Winters are cold, long and dark, and summer can be the same temperature as winter in Sydney. At the same time, the environment and the produce grown there is very clean. The food I grew up eating was honest, no-fuss and hearty. We picked our own wild berries and mushrooms; we also grew our own potatoes and vegetables.
 
What similarities do you see between cooking in Finland and Australia?
Due to the heavy European influence in Australian cooking it's been fairly easy to find similarities with Finnish cooking. The cooking techniques, as well as the basic ingredients, like dairy, root vegetables and some of the grains, are the same. However, some Finnish elements, such as wild berries, reindeer meat and full rye bread, are rarely found in Australia.

You're a keen photographer and have a portfolio of foodie photos on your blog.  What would you say to fellow foodies who are trying to improve their food photography?
I know many foodies are willing to invest in a good camera, but it is just as important to learn how to use it and understand the significance of lighting, angles and depth of field. Styling also plays a big factor in bringing the photos to life. It's a continuous learning process and I am still discovering new things every day.

Browsing your Finnish recipe listing we spotted some reindeer dishes. Is reindeer a delicacy in Finland and what is it like to cook with?
In Lapland, people have always eaten reindeer meat and I grew up with it. It's a very versatile ingredient to cook with; the meat is very lean and has a unique gamey flavour.

On your trip to Japan last year you experienced some delicate vegetarian dishes in Koyasan, near Osaka. What was so special about the experience?
Staying at Koyasan was a truly wonderful experience. My partner and I stayed at a temple lodge run by Buddhist monks. We witnessed the monks chant their morning prayers, ate the most beautiful vegetarian meals and embraced the serene atmosphere.

You also travelled down the New South Wales south coast in 2010, including a stop at The Treat Factory in Berry. What were your top picks from their produce?
The Treat Factory is a great place to get some locally produced goods. We bought jams and nuts for our friends and family.

Stinging nettle soup probably isn't the first thing you'd order from the menu. Is it popular in Finland?
This is a meal every Finn would know, but not many would cook. I think it's a shame because it's highly nutritious and tastes delicious. And no, it doesn't sting when you eat it!

Do you have any food resolutions for 2011?
I will try to eat more organic, locally produced foods, and grow more of my own as well.

If there's one thing you can tell your fellow foodies, what would it be?
A perfect meal is as simple as putting together natural and healthy ingredients, a touch of experimentation and a whole lot of open-mindedness.

Follow ScandiFoodie on Twitter.