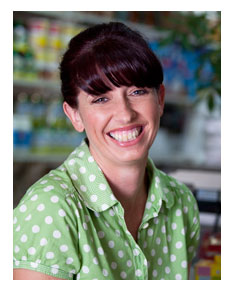 Alix Clark is the editor of the upcoming SBS food magazine, Feast, and – weeks from the launch issue hitting newsstands – she's excited about creating a magazine inspired by SBS food programs.

We chat to Alix about her go-to meals when entertaining, her love of Moroccan cuisine, and three dishes every home cook should master.

What's your go-to dish when entertaining family or friends?
In summer, I love a butterflied leg of lamb, done on the barbecue. The marinade is from an old friend – it's super simple, but everyone always raves about it. I like to serve that with roasted vegetable salad with a pesto dressing.

In winter, I'm a big fan of tagines – I love Moroccan flavours – and I also like the fact that I can stick everything in the pot and let it do its thing. When I was in Marrakech, we actually took the tanjia [clay cooking pot] down to the local hammam and stuck it in the fire that heats the water for the steam rooms upstairs. About 10 other families had done the same thing – I love the idea of using communal resources to cook dinner. The fire was stoked by off-cuts from local carpenters and cabinetmakers.  

What are the perks (and irks) of editing a food magazine?
There are so many great things about editing this magazine – getting the chance to discover and taste some truly delicious food is obviously a big one. Another highlight is being invited into family's homes to share a celebratory meal with them. These families are so generous and hospitable, and I love the fact that they allow us to share their food and traditions with our readers. There are not too many downsides, apart from the fact that I don't get much time to cook for myself!

What's your food philosophy?
Eat it, enjoy it, learn from it, share it.  

What cuisine have you been craving of late? Does this change often?
In winter, I love curries and stews, and my local does a great eastern European goulash, prefaced by spinach and cheese burek [a flaky, filo pie] and finished off with apple strudel – it's the perfect mid-week winter meal. At the same time, I'm already looking forward to spicy summer salads.  

What's your take on the term "foodie" and do you call yourself one?
I prefer to describe myself as a 'food lover" or an 'eatie". We have a very egalitarian approach to food – everyone eats and great food (whether it's simple or sophisticated) should be able to be made and enjoyed by everyone. We don't put food on a pedestal, we put it on a plate.

Feast magazine's motto is "Experiencing life through food". Can you tell us why this was chosen?
Food is not just about eating – it's how we spend time with friends, it's how we celebrate, it's a huge part of the joy of travelling. Food also helps us learn about peoples' history, their culture, their stories. We feel like almost every aspect [of life] is better with food. It's certainly how we like to experience it.

What three dishes do you believe everyone should know how to cook?
I'm a great believer in the powers of soup and always have a freezer full of couple of varieties. I think every culture and cuisine has its own take on soup, and I never get bored of it. A couple of great meat marinades always make life easier and more delicious. I love being able to come home and throw a marinated flank steak or chicken thighs in a grill pan. My last thing would be a great cake. I love baking and enjoy being able to whip up a cake to take to a friend's house.

What would your ultimate Sunday brunch involve?
A Moroccan-style breakfast tagine – eggs baked in a spicy tomato sauce. Some sucuk [cured sausage] on the side as well. And proper mint tea – gunpowder tea packed with mint leaves and plenty of sugar.