Follow the queue of hungry diners on Hay Street to Took Be Gi (no 542), a hole-in-the-wall eatery that is one of Perth's best-kept secrets to those still unfamiliar with Korean cuisine. Its menu of home-style individual set meals and traditional side dishes offers a connection to the home country of owner-manager Yumi Park, who originally comes from Ilsan, a district northwest of Seoul. 'We make all our side dishes and sauces from scratch," says Yumi. 'The bulgogi sauce is made from fresh fruit and this makes a difference to its taste."

Took Be Gi's dolsot bibimbap is unbeatable. A combination of rice, namul (seasoned vegetables), gosari (bracken fern) and gochujang (red pepper paste) is tossed in a piping-hot stone bowl, its withering heat transforming the contents into a delectably textural dish.

Down the street is a tiny cafe called MyoungGa (no 536), responsive to the cravings of the many international students from Korea who congregate in the area. Catering for this clientele, it offers a menu of just 12 dishes, 'It's authentic Korean food, just like you would have in Seoul," says owner Jai Chang, who focuses on what he knows best. The dishes are made up of marinated meats and vegetables typical of South Korean cuisine. Try the popular jjambbong, a hot and spicy seafood noodle soup; or for something less eye-watering, the  crisp fried chicken dipped in sweet chilli sauce.

Arirang Korean BBQ Restaurant (91 Barrack St) serves slivers of caramelised meat slathered with ssamjang (bean paste) and wrapped in lettuce leaves as part of its mouth-watering Korean barbecue specialities. For something more traditional, try the mulnaengmyun (thinly sliced beef, pickled vegetables and finely sliced nashi pear over buckwheat noodles in a cold beef broth), which is a refreshing dish enjoyed in both summer and winter.

Part Korean eatery, part small bar, Poppo Korean and Japanese (137 Barrack St) is popular for its speedy service and great-value meals. The option to have a tipple with your ojingobokum (spicy squid) adds some Korean flavour to the small-bar scene.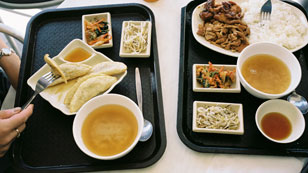 Visit these eateries and you'll quickly discover that Korean-style eating is mainly communal, with everyone sitting around a hotpot or barbecue, picking at different dishes. Most people sit down to eat instead of ordering takeaway.

And even when it comes to quick meals, the food retains the shared style of eating; is served with banchan (side dishes), and is always well presented. There's no skimping on tradition. From those who like it hot to those with a milder palate, there's something for everyone in the variety of flavours that characterises Korean cuisine. And in Perth's "Koreatown", the food is instilled with the energy, friendliness and vibrancy of the local personalities. Mas-issgedeuseyo, or enjoy your meal, as they say in Korean!

Pick up a copy of Feast magazine from your local newsagent or subscribe now.