I used to be a chef. But I'm better now. I used to be a restaurant reviewer, and I'm much, much better now. That's because I've chucked in my city life for small farm living in Tasmania, that small furry triangle at the bottom of Australia (as Barry Humphries so elegantly put it).

In Australia's southernmost shire, up a dirt road, not far from the picturesque hamlet of Cygnet, lies Puggle Farm. It's five acres of somewhat useable pasture that stretches across a barely trickling creek and up the opposite hill. It also encompasses 17 acres of south facing bush. In summer, the sun sets a crimson colour at the end of the valley as late as 9pm with a lingering twilight well beyond that. In winter, I've heard, the sun will scrape above the hill, so the sunroom on the enclosed deck can trap what little heat the distant orb can produce. I named the farm after the baby echidna, an animal I've seen plenty of while looking for my very first place in the bush.

Puggle Farm is my new patch of land, a scrap of dirt a long way from Sydney where I was working as the Sydney Morning Herald's chief restaurant reviewer. It's a long way from the urban grit of life in a terrace house to a life on the land. A long, long way from the rarefied world of swank restaurants to a place where your neighbours have time to lean on the fence for a chat. A place where the  sound of roosters, frogs and the lowing of cattle has replaced the sounds of sirens, of tinkling glass, of drunks heading home from the nearby pub.

I've moved because I've spent most of my life hearing and reading and writing about what good food is, and now I want to know what it's like to rear it myself. For a time I've had the sneaking suspicion that those who would sell us good food, in their restaurants and in their shops, may not be getting as good a produce as is actually available if you went to the source. Partly, I want to be the source of my own food, to be able to trust the origins of my food. And with any luck, I'd like to make a bob out if it one day.

Puggle Farm has the bones already in place. There's a chook shed, albeit in serious disuse. There's a vegie garden, presumably, under the layer of weeds. There's a barn with a hayloft and a solidly built house that has plenty of rural charm. It's in a majestic part of the world, south of Hobart, in a fruit growing area where smallholders are known for making a go of it, for filling their fridges with produce from their own farms or those of their neighbours.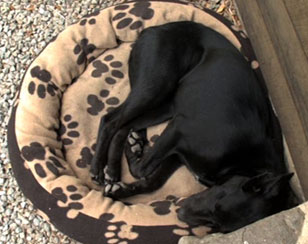 I hope to be a part of this self sustaining community. To get pigs, chooks, sheep, maybe a goat or a cow. To grow things for the plate, to have the farmhouse table groaning under platters of food I've grown or sourced locally. To have people over to share in the spoils. There's a long way to go, though, but at least I've made the first step.

I moved in on a Wednesday, with no power to be able to pump water for a shower. Things take longer in the country, and the electricity company only puts on power once a week. Got the dog on a Thursday. A beautiful kelpie bitch as black as squid ink. She'll keep me company as I try to get things growing, both animal and vegetable; a best friend, if ever she stops chewing my Blundstones and shredding the front door mat.