Cari is a farm dog. An ebony coloured kelpie. She isn't comfortable in
town. Or in the house. She likes to roll in muck and eat pig poo and
chew on enormous bones I get from the butcher. She's used to paddocks
and livestock, not trucks and crowds. She also likes to be patted. A
lot. And have her tummy rubbed. A lot.



But instinct is instinct and if there's a sheep, a turkey, a chicken,
even an enormous cow hanging around in one of the yards, she'll have a
go at rounding them up. As a pup she nibbled my heels as I walked, as
she would a sheep in a muster. Now she's more grown up, she will stalk
her prey, crouching down, black as a panther and svelte as a springbok,
trying to get up close and bring them around.



Kelpies are working dogs. If they're well trained, and kept bored when
they're not working, they can be marvellous at rounding up sheep. Cari,
because she's a home dog, has a great life. She will come, mostly, when
called, and her herding instinct is hard to manage. Take the cow out to
move her into a different paddock? Cari will razz her up, not round her
up.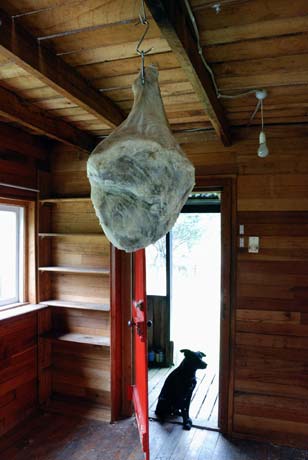 Let her in with the chooks (or, more accurately, after she rakishly
finds her own way into the orchard with the chooks) and she'll scare
them so much they take flight onto the neighbour's farm. Give her a
chance to hang around with the turkeys, and well, the turkeys just
leave the yard a little earlier than they already would. With the
sheep, Cari is always on alert, though the ram's horns, and the tough
attitude of the ewes, means she rarely gets her way.



The most curious thing the dog does is bond with other animals. For a
time I'm sure she thought she was a pig. She'd run along the fence with
them. She'd play with them. She'd try to join in their feeding frenzy
each morning and evening. She still protects my legs from the girls
when I venture into the pig paddock to feed them each morning. Without
Cari I'd probably be king hit from behind. A loving, snouty kiss from
Cassoulet or Prosciutto behind the knees, now they're so big, would be
enough to have me face down in the wallow.



Coco, the angus/jersey calf, also thinks she's a dog. At least
sometimes. When left alone for too long, Coco will start to chase the
sheep, a manoeuvre she's learnt from Cari. I first saw it from the
sunroom; the flash of white, as three ewes and the ram darted across
the top of the paddock. I immediately thought of the dog and cursed
myself for leaving the gate open. But right on the back of their
hooves, instead of an escapee coal black kelpie was an adolescent cow,
all legs and hips waggling in hot pursuit. I'm not sure why the sheep
take off, or why the cow likes to chase them, unless it's all in good
fun. Just like the dog, however, I doubt Coco would know what to do if
she caught them.