Racial Discrimination Act passed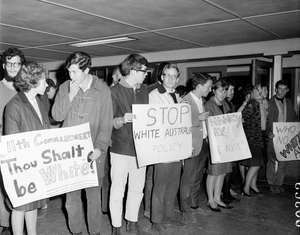 University students protest.
Image Courtesy of Australian Photographic Agency,
State Library of NSW
11 June, 1975
The Racial Discrimination Act 1975 makes racial discrimination illegal. It aims to ensure everyone is treated equally, regardless of race, colour, descent, or national or ethnic origin. By the end of the 20th century more than 10,500 complaints are received, including 3500 from Aboriginal and Torres Strait Islander people and 4000 from people from non-English speaking backgrounds.
> Next: Human rights and equal opportunity law
- From the Museum of Australian Democracy's comprehensive interactive timeline, Milestones in Australian democracy.