White Australia Policy — beginning of the end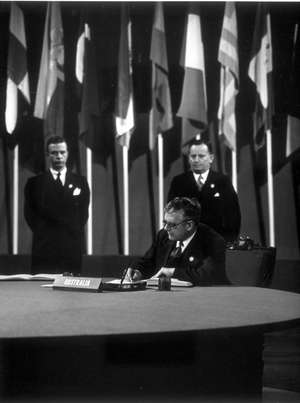 DR HV Evatt signs the UN Charter 1948.
Image Courtesy of United Nations Photo Library
3 August, 1966
Hubert Opperman, Minister for Immigration in the Holt government, effectively spells out the end of the White Australia Policy by announcing that applications from prospective settlers will be considered on their suitability as settlers, their ability to integrate readily and whether they have qualifications useful to Australia. Opperman downplays the effects of the changes, reassuring Australians that the government's 'primary aim in immigration is a generally integrated and predominantly homogeneous population'. However, the changes effectively end the White Australia Policy. By 1975, when the Racial Discrimination Act is adopted, the practice of discriminating against non-European migrants is completely abolished.
> Next: Racial Discrimination Act passed
- From the Museum of Australian Democracy's comprehensive interactive timeline, Milestones in Australian democracy.