Non-European immigration relaxed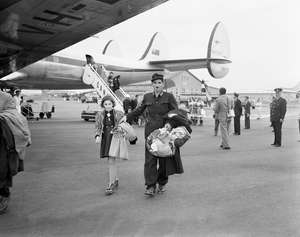 The first group of refugees following the 1956 Hungarian
uprising arrive at Sydney Airport, 3 December 1956.
Image courtesy of National Archives of Australia
10 July, 1956
Australia modifies conditions for easier entry and stay for migrants of non-European descent. In the same year, 14,000 refugees arrive from Hungary after an uprising. Conditions of entry for people of mixed descent are further relaxed in 1964.
> Next: Bring out a Briton
- From the Museum of Australian Democracy's comprehensive interactive timeline, Milestones in Australian democracy.