Refugees and Japanese war brides accepted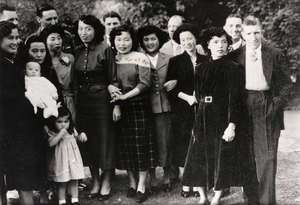 Japanese war brides and their husbands in the garden
of the Parker family home, Ringwood, 1953.
Image courtesy of State Library of Victoria
June 1952
The first Japanese war bride, Mrs Cherry Parker, arrives in Australia in June. By the time the Australian presence in Japan ends in November 1956, about 650 women have migrated to Australia as wives and fiancées of Australian soldiers, having previously been refused entry.
> Next: Non-European immigration relaxed
- From the Museum of Australian Democracy's comprehensive interactive timeline, Milestones in Australian democracy.