Populate or perish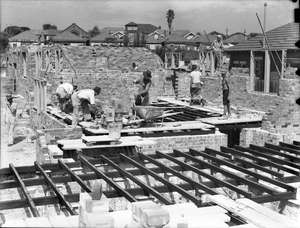 Public housing construction, Maroubra.
Image courtesy of Government Printing Office Collection,
State Library of NSW
13 July, 1945
In 1945, as Australia embarks on an ambitious post-war reconstruction program, the federal government establishes the Department of Immigration and introduces a migration scheme aimed at increasing Australia's population by 1 per cent per annum. In 1947, permanent residency is granted to non-European immigrants seeking entry for business reasons and to those who have lived in Australia continuously for 15 years.
> Next: Non-European immigration begins
- From the Museum of Australian Democracy's comprehensive interactive timeline, Milestones in Australian democracy.