Refugees flee German occupation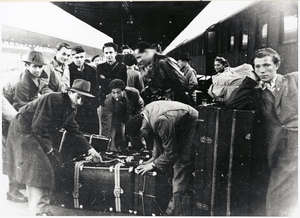 Jewish migrants arriving in Australia 1939.
Image courtesy of National Library of Australia
1 December, 1939
The Australian Government announces that it will accept 15,000 Jewish refugees over a three-year period. Each immigrant is required to have 'landing money' and be nominated by someone in Australia. Approximately one-third of the number actually land in Australia because of the outbreak of World War II.
> Next: Limited admittance of non-Europeans
- From the Museum of Australian Democracy's comprehensive interactive timeline, Milestones in Australian democracy.