Assisted British Immigration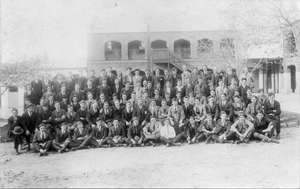 A group of young men, thought to be Barwell boys,
in the courtyard of the Women's Destitute Asylum.
Image courtesy of State Library of South Australia
April 1922
The federal government takes control of all immigration and, under the Empire Settlement Scheme, Australia accepts large numbers of British immigrants seeking new opportunities. Up to the 1929 Great Depression, more than 200,000 assisted British settlers come to Australia.
> Next: Refugees flee German occupation
- From the Museum of Australian Democracy's comprehensive interactive timeline, Milestones in Australian democracy.