Compulsory registration of aliens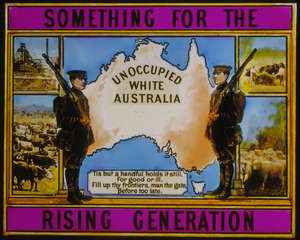 Unoccupied White Australia.
Image courtesy of the State Library of Victoria.
30 September, 1916
The government introduces compulsory registration of 'aliens' during in World War I with the War Precautions (Alien Registration) Regulations 1916, forcing 'aliens' to register with customs officials or the local police. The government subsequently introduces an internment policy, requiring those born in countries at war with Australia and classed as 'enemy aliens' to be relocated to camps. This is expanded to include people from enemy nations who are naturalised British subjects, Australian-born descendants of migrants from enemy nations and others who are thought to pose a threat to Australia's security. Australia interns almost 7000 people during World War I, of whom about 4500 are enemy aliens and British nationals of German ancestry already resident in Australia.
> Next: Assisted British Immigration
- From the Museum of Australian Democracy's comprehensive interactive timeline, Milestones in Australian democracy.