The Chinese Question in Australia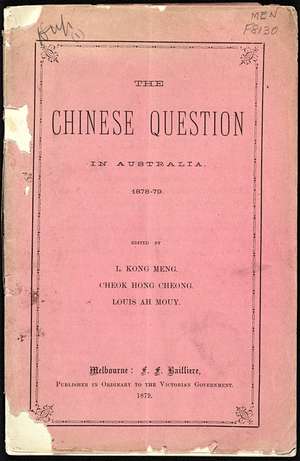 The Chinese question in Australia, 1878-79.
Image courtesy of the National Library of Australia.
1879
Lowe Kong Meng, Cheok Hong Cheong and Louis Ah Mouy publish the booklet The Chinese Question in Australia in response to the Seamen's Strike against the employment of Chinese labour on ships. It begins with 'In the present grave emergency, we appeal, as natives of China and as citizens of Victoria, to the reason, the justice, the right feeling, and the calm good sense of the British population of Australia, not to sanction an outrage upon the law of nations and not to violate the treaty engagements entered into between the Government of Great Britain and Emporer of China.'
> Next: Chinese immigration restricted
- From the Museum of Australian Democracy's comprehensive interactive timeline, Milestones in Australian democracy.