Anti-Chinese riots at Lambing Flat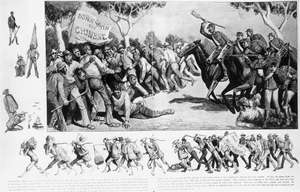 Chinese in Lambing Flat Riots, December 1860.
Image courtesy of the National Archives of Australia.
30 June, 1860
The worst of a series of riots erupts on the Burrangong goldfields between Chinese and European miners over gold sites and resources. On 30 June at Lambing Flat, a mob of 3000 Europeans drives the Chinese off the goldfield. Two weeks later, miners attack a police camp in retaliation for the police's handling of the riot, leaving one person dead and many injured.
> Next: The Chinese Question in Australia
- From the Museum of Australian Democracy's comprehensive interactive timeline, Milestones in Australian democracy.