George Zangalis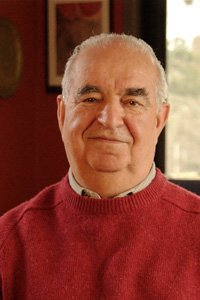 George arrived in Melbourne on 15th February 1951 aged 18. In the absence of any government assisted migration scheme to help Greeks, he was sponsored by a relative.
George started work at the Holden General Motors factory. At first he went to work on Saturday because he didn't realise that there was a five day week. At his personnel interview they declared him in good health and signed him up to the unions. The trade unions were very skeptical about migrants. They were worried they'd ruin their pay. They were driven by a strong working class racism. But George, like other migrants, had come out of the struggle with fascism and had higher expectations of what a society could be.
When he arrived he joined the Communist Youth Party in Australia. Eight months later he joined the main Communist Party along with Germans, Dutch and Italians. In the 1950s the Australian public voted to allow free speech – throwing out Robert Menzies plan to outlaw the Communist Party.
This was when George began to really appreciate the country. He began to realize that while the White Australia Policy was designed to stop people getting in, once here there was a strong ethic of giving people a 'Fair Go'.
George later became involved in Ethnic Communities councils, sat on the board of SBS, and is a lead broadcaster on Melbourne's ethnic radio station 3ZZZ. He has also written the book Migrant Workers
and Ethnic Communities: Their Struggles for Social Justice and Cultural Rights: The Role of Greek-Australians.