Mary Burns (nee O'Keefe)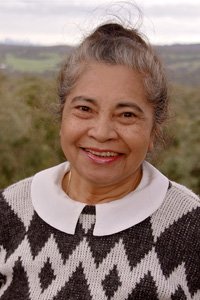 When Japan invaded Indonesia in 1942, Annie Jacob was forced to flee with her family. As refugees the Jacobs were offered sanctuary in Australia. Annie and her eight children made a fresh start in Australia. But after five years, the government ordered them to leave for the sake of White Australia.
Annie and her children, including 13-year-old Mary, were to be deported. Annie's husband Samuel was killed in the war fighting for the Allies. But before leaving to help defend Australia he made a fateful decision to defend his family. He asked their landlord Jack O'Keefe to take care of Annie and the children if anything happened to him.
Arthur Calwell, Minister for Immigration, determined to deport all Asian wartime refugees, dismissed the marriage of John O'Keefe and Annie Jacob as a sham. But what Calwell didn't bargain for was that many Australians looked beyond a Policy and saw a family who fitted in and deserved to stay.
The controversy went all the way to the High Court of Australia in Melbourne. The Court's decision on the 17th March 1949 put the O'Keefe family name into the history books. In a majority ruling the court decided the O'Keefe's would not be deported because of an administrative oversight when they were first admitted to
Australia.
After the ruling, Annie's daughter Mary was able to live her life in Australia. She became a nurse and married a Melbourne architect, Peter Burns. Today they live in Kangaroo Ground.