Nancy Prasad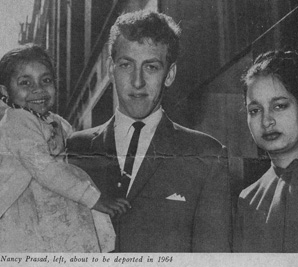 In 1965 five-year-old Nancy Prasad was to be deported from Australia. As an Indian Fijian she was not welcome in a country that still supported the White Australia Policy. A daring stunt was planned to prevent her deportation. Aboriginal leader Charles Perkins staged a kidnap to draw attention to the injustice of Australia's immigration policies. But the following day the government made sure she left.
In the 1970s, a new Immigration Minister, Al Grassby, responded to a call on live television and teenager Nancy was finally allowed to return to Australia. After more than 30 years of silence, Nancy Prasad tells her remarkable tale on Immigration Nation, and for the first time watches the dramatic archive footage of the events she took part in as a bewildered child.
It is a story that gripped a nation and dealt a hammer blow to Australia's whites-only immigration policy.