Edmund Barton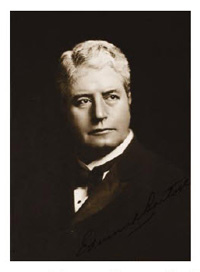 1 January 1901 to 24 September 1903
Edmund Barton was the first Prime Minister of the new Commonwealth of Australia. He was commissioned to form a Ministry on 31 December 1900, after the Act to Constitute the Commonwealth of Australia received Royal Assent. The Commonwealth of Australia was proclaimed on 1 January 1901, and the first federal elections were held on 29-30 March. Barton's Protectionists won 31 seats in the House of Representatives compared to 28 for the Free Traders, 14 for Labor and two others. In the Senate, the Free Traders had 17 Senators, Labor 8, and Protectionists 11. As a result, Barton's government relied on Labor support.
Prior to federation, Barton had a distinguished career in the NSW Legislative Assembly, Legislative Council, and served as Attorney-General. He led the federation movement from 1891.
At Federation, politicians feared that if a mix of races was permitted in Australia, white men would see manual labour as menial and a class system would evolve. They wanted to build an egalitarian society - a worker's paradise - and decided that that could only come to pass if non-whites were excluded. Under the Barton Government the Immigration (Restriction) Act was passed. The Act brought about the White Australia policy.
- Courtesy of the Museum of Australian Democracy. Download the full PDF or explore more profiles on the museum's website.