Joseph Benedict Chifley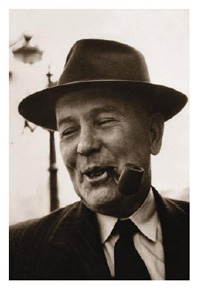 13 July 1945 to 19 December 1949
Ben Chifley was the 16th Prime Minister and was a member of the Australian Labor Party.
During Chifley's time as PM, the Australian population sat at a mere 7 million people. Chifley believed the number should be trebled and as leader he creates an entirely new ministry: The Department of Immigration.
The Chifley government was very decentralised. Chifley always insisted that his ministers were the contact point on these big issues, whether it be Doctor Evatt, the Foreign Affairs Minister, or Arthur Calwell as Minister for Immigration. So it was very clear to Calwell that he took the running. Of course that meant great risk, but it also meant great opportunity.
Chifley established the Australian Security Intelligence Organisation (1949) in response to British pressure to create an Australian counter-intelligence agency.
- Courtesy of the Museum of Australian Democracy. Download the full PDF or explore more profiles on the museum's website.