Robert Menzies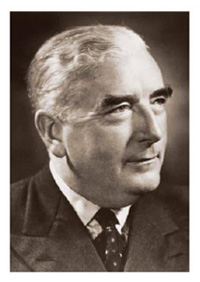 26 April 1939 to 29 August 1941
19 December 1949 to 26 January 1966
Robert Menzies became the 12th Prime Minister in 1939 when he replaced Earle Page, who was caretaker Prime Minister following the death of Joseph Lyons.
Menzies resigned as PM on 28 August 1941, but resumed the post in 1949, when his new Liberal Party defeated the Australian Labor Party led by Ben Chifley.
Menzies supported Britain in declaring war against Nazi Germany, 3 September 1939, and placed Australia on a war footing. He also had a decisive role in the formation of the Liberal Party of Australia (1944) and oversaw the Colombo Plan (1950), the Australia-New Zealand-United States (ANZUS) treaty (1951), and the South East Asia Treaty Organization (1954).
Menzies was a serious British Empire patriot, yet during his 1949-1966 Prime Ministership he did nothing to stop the flow of non-British immigrants into Australia.
- Courtesy of the Museum of Australian Democracy. Download the full PDF or explore more profiles on the museum's website.