Harold Edward Holt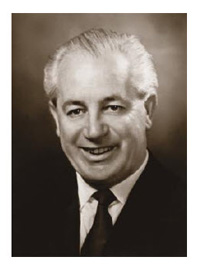 26 January 1966 to 19 December 1967
Harold Holt became the 17th Prime Minister when Sir Robert Menzies retired in January 1966. Holt drowned while swimming on 17 December 1967 and was replaced by Deputy Prime Minister John McEwen, Leader of the Country Party in the Liberal-Country Party Coalition.
As Minister for Immigration, 1949-56, he oversaw the intake of 900,000 immigrants – a record unmatched by any minister to this day. He also introduced annual citizenship conventions and, as prime minister, announced a liberalisation of restrictions on admissions under the White Australia Policy in 1966. He is remembered as someone who did a lot to integrate Australia into Asia.
As Minister for Labour and National Service, 1940-41, Holt introduced a national child endowment scheme for second and subsequent children.
- Courtesy of the Museum of Australian Democracy. Download the full PDF or explore more profiles on the museum's website.