Closed Captions (CC) available for Rare Exports: A Christmas Tale, BeDevil, Babel
MONDAY 19 OCTOBER
Johnny Cash's Bitter Tears Revisited
11:05am, NITV
PG
USA, 2015
Genre: Documentary
Language: English
Director: Antonino D'Ambrosio
Featuring: Johnny Cash, Kris Kristofferson, Steve Earle, Emmylou Harris, Norman Blake
What's it about?
The story behind Johnny Cash's lost Native American-themed concept album and his unique collaboration with folk artist Peter Lafarge. The film also chronicles the reimagining of Cash's highly controversial 1964 record on its 50th anniversary, as recorded at Nashville's historic Sound Emporium Studios. Based on Antonino D'Ambrosio's book "A Heartbeat and a Guitar: Johnny Cash and the Making of Bitter Tears."
Streaming after broadcast at SBS On Demand:
Nuclear Fusion: Let There Be Light
11:15pm, SBS VICELAND
G
France, 2017
Genre: Documentary
Language: English
Director: Mila Aung-Thwin
Featuring: Mark Henderson, Sibylle Günter, Eric Lerner, Michel Lebarge
What's it about?
This documentary follows the story of dedicated scientists working to build a small sun on Earth, which would unleash perpetual, cheap, clean energy for mankind. After decades of failed attempts, a massive push is now underway to crack the holy grail of energy.
Streaming after broadcast at SBS On Demand:
WEDNESDAY 21 OCTOBER
The Thing
8:30pm, SBS VICELAND
MA15+
USA, 1982
Genre: Horror, Sci-Fi
Language: English
Director: John Carpenter
Starring: Kurt Russell, Wilford Brimley, T. K. Carter, Keith David, Keith David, Richard Dysart
What's it about?
Scientists in the Antarctic are confronted by a shape-shifting alien that assumes the appearance of the people that it kills. A critical and commercial failure upon its original release, this adaptation of John W. Campbell Jr's short story "Who Goes There?" is now regarded as one of the canonical films of the horror genre and one of the greatest achievements of legendary director John Carpenter (Halloween, Assault on Precinct 13, They Live).
NOTE: No Catch-up at SBS On Demand
White God
11:50pm, SBS
MA15+
Hungary, 2014
Genre: Drama, Thriller, Fantasy
Language: Hungarian
Director: Kornel Mundruczo
Starring: Zsófia Psotta, Sándor Zsótér, Lili Horváth 
What's it about?
Favouring pedigree dogs, a new regulation puts a severe tax on mixed breeds. Owners dump their dogs and shelters become overcrowded. 13-year-old Lili fights desperately to protect her pet Hagen, but her father eventually sets the dog free on the streets. Hagen and his pretty master search desperately for each other until Lili loses faith. Struggling to survive, homeless Hagen realises that not everyone is a dog's best friend. Winner of the top prize in the Un Certain Regard section at the 2014 Cannes Film Festival (as well as the coveted Palme Dog.)
Streaming after broadcast at SBS On Demand:
THURSDAY 22 OCTOBER
Marn Grook
10:00am, NITV
PG
Australia, 1996
Genre: Documentary
Language: English
Director: Steven McGregor
What's it about?
Explores the history, achievements and struggles of Aboriginal sportsmen involved in our National game, 'Aussie Rules'.
Rare Exports: A Christmas Tale
9:30pm, NITV (repeats 12:00pm, Friday 23 October)
M, CC
Finland, 2010
Genre: Comedy, Fantasy, Action
Language: Finnish
Director: Jalmari Helander
Starring: Jorma Tommila, Onni Tommila, Peeter Jakobi 
What's it about?
This darkly hilarious Christmas tale follows the capture of Santa during an archaeological dig in the depths of Finland's mountains. But this is a murderous Santa, and his psychotic elves are determined to free him.
NOTE: No Catch-up at SBS On Demand
FRIDAY 23 OCTOBER
Cirque Du Freak: The Vampire's Assistant
8:00pm, NITV (repeats 12:00AM)
M
USA, 2009
Genre: Fantasy, Horror, Family
Language: English
Director: Paul Weitz
Starring: Chris Kelly, Josh Hutcherson, John C. Reilly, Salma Hayek, Jessica Carlson
What's it about?
14-year-old Darren (Kelly) was like most kids in his suburban neighbourhood - he hung out with his best friend, got decent grades and usually stayed out of trouble. But when he and his buddy stumble upon a travelling freak show, things begin to change inside Darren. That's the exact moment when a vampire named Larten Crepsley (Reilly) turns him into something bloodthirsty.
NOTE: No Catch-up at SBS On Demand
SATURDAY 24 OCTOBER
Sunny and the Dark Horse
10:00am, NITV
PG
Australia, 1987
Genre: Documentary
Language: English
Director: David MacDougall, Judith MacDougall
What's it about?
The story of an Aboriginal stockman, Sunny Bancroft, and his family at Collum Collum and their growing enthusiasm for "picnic races" on bush tracks in New South Wales. The film follows Sunny and his wife Liz, in their search for a winning horse to triumph on the local picnic racing circuit – but things don't always go their way.
Lord of the Flies
12:00pm, SBS VICELAND
M, AD
USA, 1990
Genre: Adventure, Drama, Thriller
Language: English
Director: Harry Hook
Starring: Balthazar Getty, Chris Furrh, Danuel Pipoly, James Badge Dale, Andrew Taft
What's it about?
The 1980's adaptation of the classic novel by Nobel Prize winner Sir William Golding is the powerful drama of a group of young American military school cadets stranded on a remote island, and the social hierarchy that emerges among these young men.
NOTE: No Catch-up at SBS On Demand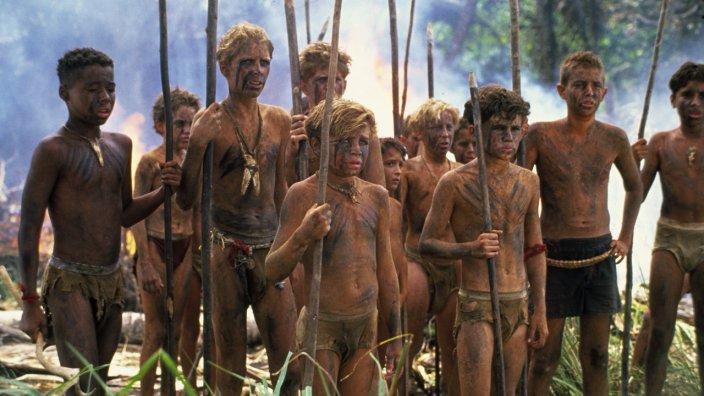 Charles And Di: The Truth Behind Their Wedding
3:45pm, SBS
PG
UK, 2019
Genre: Documentary
Language: English
Director: Duncan Sinhg
What's it about?
A documentary examining the week immediately prior to the Royal Wedding of Prince Charles and Lady Diana Spencer in July 1981, which lifted the spirits of the nation during a turbulent time. Interviewees include people who knew the couple, such as Mary Robertson, Col Robert Spencer and Angela Rippon, who carried out a pre-wedding interview as well as presenting the live coverage on the day.
Streaming after broadcast at SBS On Demand:
Babel
9:25pm, SBS
MA15+, CC
USA, 2006
Genre: Drama
Language: English, Spanish, Japanese, Arabic
Director: Alejandro G. Iñárritu
Starring: Gael García Bernal, Rinko Kikuchi, Cate Blanchett, Brad Pitt, Adriana Barraza
What's it about?
A rifle shot in the Moroccan desert sets in a motion a series of events that will have tragic consequences for the two young Moroccan gunmen, as well as a married American couple who are grieving on holiday, a Mexican nanny struggling to make ends meet and a rebellious, deaf Japanese girl. Nominated for seven 2007 Academy Awards including Best Picture, and winner of one for Best Original Score (Gustavo Santaolalla).
Streaming after broadcast at SBS On Demand:
RELATED
Alejandro González Iñárritu's epic 'Babel' embodies the greatness of Mexican cinema
Released in 2006, Babel marked a turning point in the career of future Oscar-winning director Alejandro González Iñárritu, and in the burgeoning New Mexican Cinema that now almost completely dominates awards season.
Bedevil
9:35pm, NITV
M, CC
Australia, 1993
Genre: Horror
Language: English
Director: Tracey Moffatt
Starring: Lex Marinos, Tracey Moffatt, Riccardo Natoli 
What's it about?
BeDevil is a trilogy of ghost stories that follows characters pestered by visions - real, remembered and imagined. These contemporary tales travel from the sparseness of the outback, through the murky, rotting swamps of the islands, to the Brisbane docks in a stylish vision from writer/director and celebrated visual artist Tracey Moffatt.
MOVIE SHOW REVIEW + TRACEY MOFFAT INTERVIEW
SUNDAY 25 OCTOBER
Cola Wars
7:35pm, SBS VICELAND
PG
USA, 2019
Genre: Documentary, History
Language: English
What's it about?
Traces the long and ferocious rivalry between Coke and Pepsi, centred on the "New Coke" debacle of 1985. For almost a hundred years, Coke had been the undisputed leader in the multibillion dollar global soda industry--stodgy, predictable, but indisputably top dog--while Pepsi had been the upstart No. 2, forever poking at its big brother with cutting edge advertising. But in 1985, in a stranger-than-fiction twist, Coca-Cola's executives took a step so daring that no one in either company could believe it: they changed the formula of the most popular beverage on the planet.
Streaming after broadcast at SBS On Demand:
Maker Of Monsters: Meet Beau Dick
9:35pm, NITV
PG
Canada, 2018
Genre: Documentary
Language: English
Director: Natalie Ball
What's it about?
An intimate look into the life of one of Canada's greatest artists. Beau Dick worked within an ancient tradition and rose to the ranks of international success within the white cube world of contemporary art while never forgetting his roots. Meet Beau Dick illuminates a man whose art and life continue to transcend expectations and boundaries.
Streaming after broadcast at SBS On Demand: