Australia had third-hottest year in 2014
Last year was the third-hottest ever recorded in Australia since reliable records began in 1910, and temperatures contributed to last year's bush fire conditions, the Bureau of Meteorology says.
Last year was the warmest year on record for NSW, and the second warmest for Victoria, Tasmania and South Australia.
Today's Annual Climate Statement 2014 from the Bureau of Meteorology says 2014 was the third warmest year in Australia since records began in 1910.
The January heatwaves and antecedent dry conditions last year created circumstances favourable for bushfires.
(Map from BOM)
Last year, the BOM revealed 2013 was Australia's warmest year on record.
Globally, the World Meteorological Organisation has estimated 2014 is likely to be one of the hottest, if not the hottest, on record.
In Europe, 2014 broke a series of heat records in France, Britain, Germany and Belgium, weather agencies report.
In France, "2014 was the hottest year since 1900," the Meteo-France weather agency said in a statement on Monday.
Eight of Britain's top 10 warmest years have happened since 2002.
Australia had its warmest spring on record during 2014, after record low overnight temperatures across southeastern Australia.
Temperatures for parts of the Northern Territory were below average.
Frequent heatwaves and warm spells, and a notable reduction in cold weather, characterised 2014, Assistant Director for Climate Information Services Neil Plummer said.
"Much of Australia experienced temperatures very much above average in 2014, with mean temperatures 0.91°C above the long-term average," Mr Plummer said.
"This follows the warmest year on record in 2013, which was 1.2°C warmer than average."
"Particularly warm conditions occurred in spring 2014, which was Australia's warmest spring on record."
Annual mean temperature anomalies on the rise
The 1961-1990 average Australian temperature is being broken by greater margins as years increase.
The ten year moving average for mean temperature anomalies is .55 above the 1961-90 average.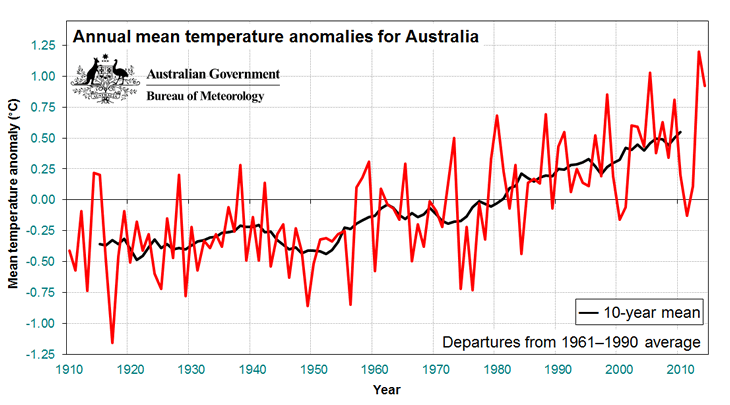 Australia's increasing annual mean temperatures follows an upward trend, as do annual mean temperatures around the world.
(Charts from BOM)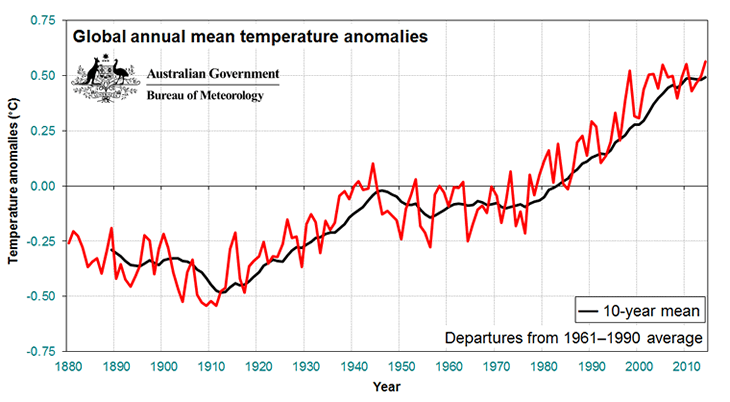 Dr Sophie Lewis from the Research School of Earth Sciences at the Australian National University said the cause was global warming.
"We had our hottest spring on record in 2013 and again in 2014, and these extremes were at least 30 times more likely because of human influences, such as greenhouse gases," Dr Lewis said.
Dr Sarah Perkins from the Climate Change Research Centre, UNSW said climate change was not going to be a future phenomenon.
"The fact that we are experiencing such record breaking and extreme conditions, both during consecutive years and since the turn of the millennium is a clear sign that climate change is happening now, and here, in Australia," Dr Perkins said.