This week, three young people open up to a studio audience about what it's like to have Fetal Alcohol Spectrum Disorder.
Two of them can barely read or write. One has trouble speaking. One battles constant feelings of white hot anger.
All their mothers drank during pregnancy.
Drinking when pregnant can lead to a whole host of physical, behavioural and developmental problems known as Fetal Alcohol Spectrum Disorder (FASD).
Many pregnant women have out-of-date information about alcohol. Previous guidelines used to say that women could drink up to seven standard drinks per week. That was reduced to zero in 2009, but experts fear the message isn't getting out.
And about half of all pregnancies are unplanned, meaning women might drink in the crucial early weeks of pregnancy and not realise the potential damage they're doing.
Presenter: Jenny Brockie   Follow @jenbrockie
Producer: Hannah Meagher  Follow @Hannah_Meagher
Associate Producer: Kyle Taylor  Follow @KylesTaylor
Web Extra: I'm pregnant, should I be drinking?
Previous National Health and Medical Research Council (NHMRC) guidelines said that women could drink up to seven standard drinks per week.
But these guidelines changed in 2009. The number is now zero. The NHMRC guidelines now state:

What you're saying: Is alcohol ever ok for expectant mums?
What is FASD and what is FAS?
Alcohol consumed by a pregnant woman can cause problems in her unborn baby. It can lead to spontaneous abortion or a range of disabilities known as fetal alcohol spectrum disorders (FASD). 
FASD is the umbrella term used to describe the following disorders:
• Fetal alcohol syndrome (FAS) – Children with this condition are born with characteristic physical and mental defects, including short stature, and small head and brain (pictured below). Out of all these disorders, FAS is the most severe.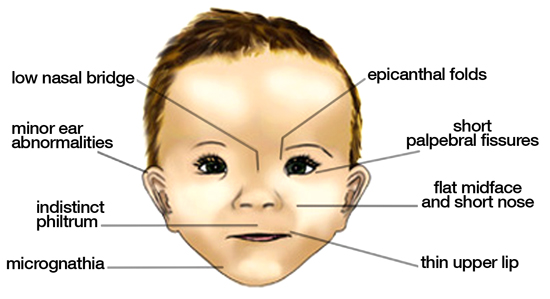 Partial FAS – where a child has some, but not all, features reported in FAS. 
Alcohol-related neuro-developmental disorders – refers to children with problems with learning and behaviour related to alcohol exposure.
Alcohol-related birth defects – refers to abnormalities in organs such as the heart or kidneys related to alcohol exposure. Children diagnosed with FASD can have learning difficulties, behavioural problems, language, delayed social or motor skills, impaired memory and attention deficits. There is no cure. Treatment is focused on mental health and medical services to manage these lifelong disabilities.

How does FASD get diagnosed?
Australia does not have nationally-agreed diagnostic criteria or guidelines, although there is one in the pipeline. FASD is usually diagnosed by a multi-disciplinary team of health professionals.
Besides the lack of a national diagnostic tool, it's difficult to accurately diagnose FASD for several reasons:
1) The complexity of the FASD spectrum. Diagnosis is complicated by the fact that many of the symptoms overlap with other conditions, for example ADHD or autism. Also, the majority of FASD individuals do not have the characteristic facial abnormalities.
2) Lack of awareness among health professionals.
In a
2006 survey
of pediatricians, fewer than 19 per centcould identify all four diagnostic criteria for FAS. Only 23 per centroutinely asked about alcohol use when taking a pregnancy history.
3) The stigma attached to acknowledging maternal alcohol consumption.
Some doctors find it difficult to address this without embarrassing or stigmatising expectant mums. In the same 2006 survey, 69.6 per cent of pediatricians thought that a diagnosis of FAS could be stigmatising.
Read more about these issues in the report
FASD: The Hidden Harm 
What support is there? 
FASD is not recognised as an official disability in Australia, making access to government support and assistance extremely difficult. 
Advocates have submitted recommendations for FASD to be recognised as a disability so carers can automatically receive the Carer Allowance. The Rudd government announced a $20 million Commonwealth Action Plan earlier this year. The Abbott Government says it is reviewing the funding. 
Where can I get help? 
For more information on FASD or to find support services, check out the National Organisation for Fetal Alcohol Spectrum Disorders or call them on 1300 306 238.