We love reading about high profile cheaters. Is it because they touch a nerve in our own lives?
Tiger Woods, John Edwards, Jesse James.. is monogamy realistic?
While statistics on infidelity are notoriously unreliable, some surveys say up to 70 per cent of us cheat – and women are catching up to men.
 
Despite our cheating ways, it seems that marriage and monogamy remains what most of us want.
So why are some couples able to survive infidelity while for others it's the end of their relationship?
Does it matter if it was just sex?  Should you always tell your partner if you have strayed, or is it better to keep it secret?
We want to explore whether it's really possible to forgive and forget or whether the damage always stays with us.
Is monogamy still the best model?
Join us as we bring together couples from all walks of life to talk about how they have worked through infidelity in their relationship.
Presenter: Jenny Brockie
Producer: Ronan Sharkey
Associate Producer: Ella Kennedy
Web Extra: Interviews 
Three couples reflect on what it was like to share intimate details of their personal relationships and infidelity with the Insight forum. 
Jo and Shaun
Click play to hear from Jo Rensen-Wallace and Shaun Hogan.
Jo has been unfaithful to Shaun in the past and says she stepped out of her comfort zone to publicly admit that what she did was wrong and hurtful. The couple has stayed together and are currently exploring how their relationship may change in the future.
Rachel  and Darryl
Rachel Viner and Darryl Stanley have been in a relationship for over two years.  Darryl has been open about being unfaithful to past partners and has but has remained committed to Rachel. The two reflect on their experience on the program.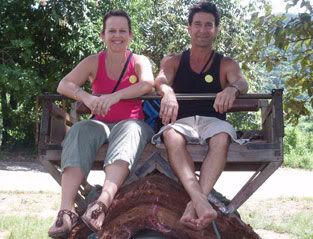 What made you decide to come on the show?
DARRYL: It was a chance to take ownership of decisions I have made in the past.
How are you expecting your friends, family and colleagues to react to the show?
DARRYL: The reactions I think will be positive. I have talked to my children about the show, it will be the first time hearing this for them and members of my family.
What helped you change and remain faithful in your current relationship?
DARRYL: By building on my self esteem.  My advice would be to communicate with your partner about your feelings and wants.  
Any advice you'd give about being in a relationship with someone who had been unfaithful in the past?
RACHEL: Talk. Really you must talk about it, their infidelity, why they did it, how, when? Then address your feelings on it. You need to leave the topic as an open and easy one to talk about it, so don't shut down the lines of communication on this one.
As a couple, what helps you stay monogamous?
RACHEL: We have only been together for 2 ½ years so we are in the early stages I suppose.  I have no intention of being anything else other than monogamous, and if I want to exit the relationship I will do so without the excuse of another person. I think I am one of those people that definitely turn the "available" signals off, when I am in a relationship.
DARRYL:  A good sex life.
What's your relationship like now?
RACHEL: We felt closer having done the show together. I was very surprised at how Darryl opened up on the show. I wish I could transport him to the forum every time I want to talk to him about something important.
We, like every couple have things we are not very good at dealing with, and communicating about. Infidelity is not one of those.
We are planning on starting a family in the near future.
Note from Linda
Lyndal and Andrew have been together for over 20 years. Just after the birth of their first child 17 years ago, Lyndal suspected that Andrew was cheating. Eventually Andrew admitted to being unfaithful with men.
Read Linda's thoughts here.