Ever since BTS performed at the 2017 American Music Awards last night the popular K-pop boy group have become the hottest new thing in America, racking up praise and attention from major U.S media outlets everywhere.
Since the boys now have a legion of new fans pouring in every minute, we thought we might get all the newbies up to speed on who BTS are and what they've done prior to their 2017 AMAs performance!
So without further ado, here are 10 fun facts about BTS for all those incoming new fans!
10. 'BTS' does NOT stand for "behind the scenes!"
Though it is pretty close! BTS actually stands for "Bangtan Sonyeondan," which means Bulletproof Boy Scouts in Korean. Recently though, the boys have announced that BTS now also stands for "Beyond The Scene."
9. BTS fans are called "ARMY"
And they are arguably the most passionate fandom out there today! 
8. They debuted back in 2013
You may be hearing a lot about them now, but BTS have been around for over 4 years now!
7. They produce most of their own music
Most K-pop groups have their music produced for them by other writers and musicians, but BTS bucks this trend by having a prominent role in the composition of their songs. Just go through the production credits of their albums and you will see their names listed on almost every song.
6. They've released a LOT of music already
At the time of writing, BTS have released 2 Korean studio albums (Dark & Wild and WINGS), 2 Japanese studio albums (Wake Up and Youth), 5 mini-albums (O!RUL8,2?, Skool Luv Affair, The Most Beautiful Moment in Life, Part 1,The Most Beautiful Moment in Life, Part 2, Love Yourself 'Her'), 1 compilation album (The Most Beautiful Moment in Life: Young Forever), and 2 repackaged albums (Skool Luv Affair Special Edition and WINGS: You Never Walk Alone).

Needless to say, there's a LOT of music to catch up on if you're a new BTS fan!
5. They've earned a reputation for their fierce dance choreography
Every K-pop star may be a good dancer, but BTS pushes the bar to new heights by having some of the toughest choreography in all of K-pop!
4. They have their roots in hip-hop
While BTS have a glossy boy group image nowadays, the group were actually quite involved in the hip-hop scene early in their career. In fact, BTS went and explored the history of hip-hop through their 2014 reality show American Hustle Life.
3. Their 2017 AMAs stage was their 1st ever U.S TV performance
But it was far from BTS' first performance in America or L.A! In fact, they've held a number of concerts in America, as well as a handful of awesome performances at KCON LA and KCON NY!
2. The members actually didn't know one another prior to BTS
Before BTS, all the members were involved with various other things. It wasn't until they all joined their company, Big Hit Entertainment, that the seeds of BTS were planted.
1. There are 7 members (and they're all AWESOME!)
Here are their names and their roles:
RM (Leader, rapper)
Jin (Singer, visual member)
Jimin (Dancer, singer)
J-Hope (Dancer)
Suga (Rapper)
V (Singer)
Jungkook (Singer, maknae)
Good luck trying to figure out your favourite member because they're all super cool and talented!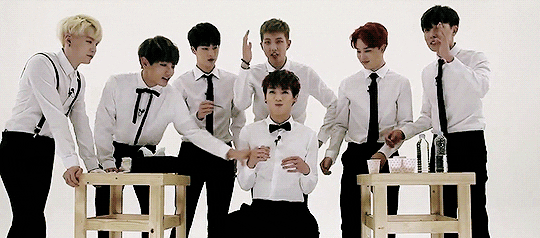 ---
Hear us on SBS PopAsia Digital Radio
Listen in 24/7 on Digital Radio, by downloading our free mobile app or by streaming live here on our website.
Download the app here: