With 2017 now in the rear-view mirror, it's time to look forward to what 2018 has in store for the world of K-pop!
From comebacks, our hopes, and what we want to see, here is our big wishlist for what we want to see happen in K-pop in 2018!
8. More experimental approaches in regards to music
BTS brought their own approach to the popular pop sound with "DNA," not to mention EXO's awesome take on reggae with "Ko Ko Bop" and DREAMCATCHER's badass interpretation of the fast and hard-hitting J-rock sound.
With a considerable amount of experimenting in 2017, we're hoping that this trend continues on in 2018 and that we'll hear some even more wickedly awesome songs with fresh, never-before-heard sounds!
7. More memorable viral moments!
Last year gave us several K-pop viral moments that blew up the internet, such as this one: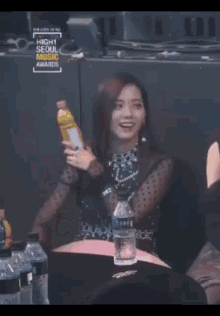 Our wish for 2018 is for even more moments like Jisoo trying to balance a water bottle on her shoulder! (Try two bottles this year, Jisoo!)
6. A new show like "Roommate" 
2017 saw a heap of new reality competition shows premiere, which resulted in the creation of some awesome groups such as WANNA ONE and Stray Kids. 
But what we hope to see in 2018 is the return of shows like "Roommate" where idol interactions are plenty, and shenanigans are guaranteed!
5. More rookie groups getting popular
Amongst the many great comebacks in 2017, there were also several fantastic debuts by fantastic rookie groups. With so much talent having finally made their long-awaited debut on the big K-pop stage, we're hoping that some of these rookie groups will get their share of mainstream success in 2018 (and perhaps a couple of music show wins)! 
4. More acts coming to Australia!
BTS. GOT7. VIXX. KCON Australia. G-Dragon. Rap Beat. It goes without saying that 2017 was a MASSIVE year for K-pop acts coming Down Under. However, we're hoping that 2018 will be an even BIGGER year in terms of artists visiting and performing in Australia! 
From acts like WINNER and Black Pink to Red Velvet and KARD, we have our fingers crossed for many more acts to come to Australia this year!
On the topic of more events and acts coming to Australia... 
3. Bigger line-up for KCON Australia!
2017 saw KCON finally make its way Down Under, and boy was it an unforgettable event! While 2017 had a great line-up that included EXO, MONSTA X, WANNA ONE, Girl's Day, and Cosmic Girls, we have our fingers crossed for an even bigger KCON Australia in 2018 with more artists and stalls!
2. Epic comebacks (especially from long-dormant groups)!
From BTS and EXO to TWICE and Red Velvet, 2017 was a great year for comebacks and we're hoping that 2018 will be equally as awesome (if not more). However, we've also got our fingers crossed for the return of some groups who have been away for quite some time, such as Trouble Maker, TVXQ, After School, and Orange Caramel!
On the topic of long-dormant groups coming back....
1. An f(x) and Black Pink comeback please!
We may have gotten that awesome Amber and Luna collab last week, not to mention the premiere of Black Pink's first reality show just a few days ago, but both those awesome things have got us thirsting for a proper comeback from both groups!

Given how Black Pink only had one comeback in 2017 and f(x) having been dormant since 2015, we're long overdue for a return for both!
---
Hear us on SBS PopAsia Digital Radio
Listen in 24/7 on Digital Radio, by downloading our free mobile app or by streaming live here on our website.
Download the app here: