Maknaes are amongst the most beloved members of their group, and for good reason. They're the youngest, they're generally the cutest, and they bring that extra touch of adorableness to each group. Having said that, many K-pop fans love maknaes for one particular reason: when they get all sassy and savage on their older members!
Seriously, the entertainment factor is off the scale whenever a maknae gets all evil! For example:
1. Jungkook teasing Jimin abut his height
2. Tzuyu savagely burning Jihyo
3. Sehun ragging on his older members without the use of words
4. Yeri putting burns on her unnies and being proud of it
5. Seungri ragging on G-Dragon's love life
6. Seohyun showing that she's not as innocent as she seems
7. Hwasa strutting her stuff and showing her members who is boss
8. Yugyeom showing his hyungs who is the most cocky member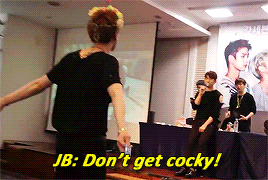 9. Krystal having enough of Amber's shenanigans
10. Kyuhyun. Just Kyuhyun!
Now here's the big question: which of these "savage" maknae moments are your favourite?
What is your favourite 'savage maknae' moment ever?
Poll
* Please note percentages are rounded to one decimal place.
---
Hear us on SBS PopAsia Digital Radio
Listen in 24/7 on Digital Radio, by downloading our free mobile app or by streaming live here on our website.
Download the app here: