It's BTS member Suga's birthday and what better way to celebrate than by taking a look at all the moments he was almost TOO relatable.
14. When he said how he really feels about modern society
13. When he couldn't win at games and just said...
12. Or when he was forced into physical activity
11. When he bragged about this actually amazing feat
10. When his laziness knew no bounds
9. When he said what we all think to ourselves sometimes
8. And repeated the mantra of all sleep-deprived people
7. When he had no time for Jin's dad jokes
6. When he made it clear that Suga = genius
5. When he's showing love to his fellow members... but not too much love yknow.
4. Seriously, this boy just gets it
3. When he revealed his biggest dream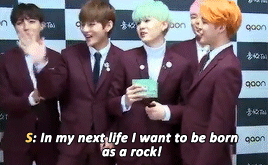 2. And he was not kidding, he loves to sleep
1. And finally this. The truest words ever said.
Happy birthday Suga, we love you as much as you love not being awake.
---
Hear us on SBS PopAsia Digital Radio
Listen in 24/7 on Digital Radio, by downloading our free mobile app or by streaming live here on our website.
Download the app here: