Monsta X are one of the biggest K-pop boy groups right now, and if you're not already a fan, we're going to have to insist you read these facts and recognise the need to become one.
There are seven members
Shownu, Jooheon, Wonho, Kihyun, Minhyuk, Hyungwon and I.M. make up the group. They were formed through survival show No Mercy and are signed to Starship Entertainment. They debuted officially on 14 May 2015 with the song "Trespass".
Their fans are called Monbebes
Their lightstick is one of the most beautiful things our eyes have ever seen.
They're the definition of hardworking
They've released six mini-albums, four studio albums - three in Korean and another in Japanese, five official collaborations and six OST songs.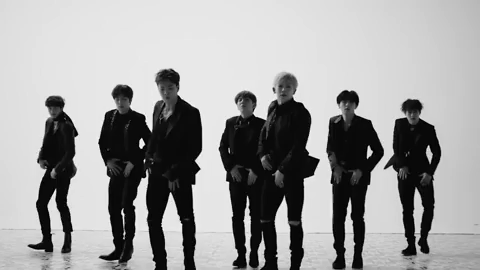 Dancing is second nature to them
There's no denying all those muscles help them nail the dance moves
They're meme kings
There's the infamous Hyungwon curve from mic to beverage, but there's also Wonho crying into a bag of chips and every behind the scenes video they've ever made
Their friendship with SEVENTEEN is heart-warming
They've performed together and they clearly love hanging out with each other. They're also always cheering each other on at award ceremonies and making fun of each other.
Their leader, Shownu, is the softest strong man you've ever seen
He was a cast member on "Lipstick Prince", where he was as adorable as capable at applying makeup on female idols.
I.M and Jooheon have solo music as rappers
And the beats are undeniably good. I.M released "Fly With Me" in February 2018, with his debut mixtape Horizon to be released in 2019.
Jooheon released his, Jooheon Mixtape 'DWTD' in August 2018 with lead single "Red Carpet".
They won their first music show award two years after debut
Despite having won at different awards shows, it took them longer to get their first music show win, which they eventually got with "Dramarama" in November 2017.  Their emotional reaction was overwhelming to watch.
They're huge in Japan
MONSTA X are certified gold three-times over in Japan for their singles "Spotlight", "Livin' It Up" and "Shoot Out". Their debut Japanese album Piece went to the top of the Tower Records' weekly chart on release too.
Go forth and fall for Monsta X, it's going to be totally worth it.
Want to see MONSTA X live when they come to Australia in June 2019? We've got a VIP double pass to giveaway, along with some runner-up prizes! It's easy to enter, check out the details here.
---
Hear us on SBS PopAsia Digital Radio
Listen in 24/7 on Digital Radio, by downloading our free mobile app or by streaming live here on our website.
Download the app here:
FOR MORE
12 powerful K-pop songs in which idols shared their struggles
Fear of failure, societal pressure and intense loneliness are all explored in these songs