The latest K-drama everyone's buzzing about is Something In The Rain, also known as Pretty Noona Who Buys Me Food. 
We've been hooked throughout this series! Here's some reasons you should check it out too.
1. You can watch it with English subtitles in Australia right now
Netflix is uploading weekly episodes of the show with subs, meaning you won't be behind Korea when it comes to keeping up with the story as it unfolds. And wow, what a story!
2. The romance isn't as conventional as it seems
Though it is still a boy-meets-girl story, it's one of few showcasing an older woman dating a younger man.
The female lead Jin-ah (played by Son Ye-jin) is in her late 30s, whereas the male lead Joonhee (played by Jung Hae In) is in his 20s. There's a significant age gap and it's brought up often, along with the fact that Joonhee is actually Jin-ah's best friend's younger brother.
3. Every dating trope is met and then some
You want a romantic movie and food cart date? You got it. How about a weekend trip including a picturesque cottage stay? You're very welcome. Need to see your leads frolic in the snow while wearing giant parkas? This. Show. Has. Got. You. Covered.
4. Jung Hae In as a lead actor
Jung Hae In was victim to Second Lead Syndrome in While You Were Sleeping, in that we wanted to see so much more of him than we got. In Something In The Rain we get to see his acting range, from cute to romantic to passionate.
5. Delicious eating
Don't watch this show on an empty stomach. There's so many scenes of people sharing food and eating delicious things, it'll give you serious food envy in the best possible way.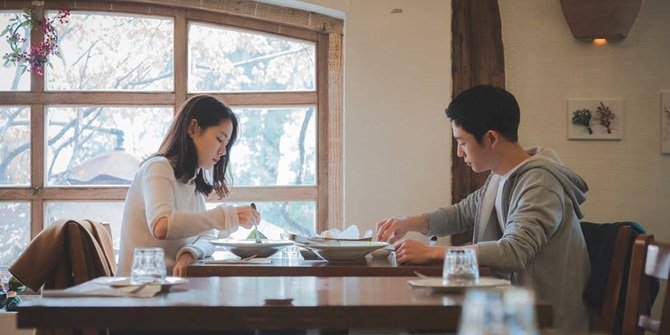 So have we convinced you to check out the show yet?
---
Hear us on SBS PopAsia Digital Radio
Listen in 24/7 on Digital Radio, by downloading our free mobile app or by streaming live here on our website.
Download the app here: