Park Seo Joon is one of the biggest names in Korean television and cinema right now. With Itaewon Class still being talked about after just airing its finale, we figured you could use some viewing ideas to get fully versed on Park Seo Joon's work.
Here's some of the shows you should be watching starring Park Seo Joon.
1. Fight For My Way
This K-drama all about young people struggling to achieve their dreams touches on some themes many of us will be familiar with. Park Seo Joon plays Ko Dong Man, a taekwondo athlete who gave up his dream but returns to the ring as a UFC fighter.
2. She Was Pretty
In this drama, Hwang Jung Eum plays a woman who used to be best friends with Park Seo Joon when they were little. They arrange a reunion as adults but it turns out Park Seo Joon is no longer the chubby boy she knew, and intimidated, she gets her best friend to pretend to be her. Lo and behold, he ends up being the new magazine editor at her job - shenanigans ensue!
3. Hwarang
There's a star-studded cast in this one: from SHINee's Minho to Park Hyung Sik and BTS' V. Set in the Kingdom of Silla, the series depicts the story of an elite group of male soldiers known as 'flowering knights' who protect the Queen but also get into all kinds of trouble.
4. Midnight Runners
A buddy action movie starring Park Seo Joon and Kang Haneul as police academy students, this movie has the perfect balance of drama and comedy. The pair witness a kidnapping and knowing they're in the vital hours to save the person, throw caution to the wind and try to hunt down the criminals. Witness Park Seo Joon as the hot-headed action-man playing off Kang Haneul's logic-minded thinker for some great laughs.
5. What's Wrong with Secretary Kim
Romance with a side of childhood trauma, a classic K-drama trope! Park Seo Joon and Park Min Young's chemistry was so believable in this drama it sparked off-screen rumours of a romance, and you'll fall for him too as you watch his arrogant facade melt away when faced with losing his faithful secretary and maybe love of his life.
6. Itaewon Class
The show has just finished airing, but it's not too late to get stuck into it! It focuses on Park Saeroyi, a guy with a strong moral backbone who faces unfair adversity in his youth. As an adult he plans to avenge his father's death by growing a food empire from the ground up, and opens a pub in the bustling international district of Itaewon in Seoul. He then brings together an unlikely group of people to be his colleagues. It's sweet, dramatic and at times heart-wrenching, but you'll absolutely fall for his character along the way.
7. The Divine Fury
This supernatural horror movie stars Park Seo Joon as a MMA fighter (a recurring theme in his career?) who begins to have nightmares that feel alarmingly real. He can't sleep as he bleeds stigmata from his hands, and consults a shaman and a priest, who tell him he's possessed. But to help himself, he first has to help others, and he becomes an assistant to exorcisms. A lot happens after that and we won't spoil the surprise, but get ready for some jump scares and a lot of demons.
8. Youn's Kitchen 2
This reality show saw Park Seo Joon become an intern in a Korean restaurant in Spain. He worked as a waiter and much more alongside three other people, trying to launch a new business in a foreign country. It's funny, heartwarming and most importantly, it features Park Seo Joon speaking Spanish.
9. Kiss Me, Heal Me
Park Seo Joon isn't the lead in this one but he still gets to flex his comedic muscles. The plot revolves around a man who has seven personalities, who falls in love with a doctor.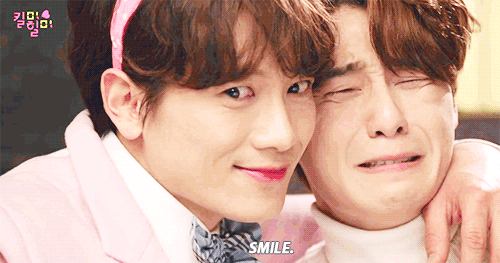 Have you watched any of these shows yet?
---
Hear us on SBS PopAsia Digital Radio
Listen in 24/7 on Digital Radio, by downloading our free mobile app or by streaming live here on our website.
Download the app here: