Over on Reddit, fans have been talking about their favourite shots from K-pop music videos and it got us thinking about some of the most aesthetically pleasing moments from recent K-pop MVs.
Here's some of the faves fans pointed out that are definitely beautiful shots (in no particular order)!
1. BTS: "Spring Day"
It's hard to choose with so many incredible shots, but the slow pan onto the rapline standing outside Omelas is particularly beautiful.
2. IU: "Last Night"
The entire retro aesthetic of this MV is memorable, especially the two back up dancers looking very serious throughout.
3. Dreamcatcher: "What"
This earth-flipping moment with Yoohyeon.
4. iKON: "Love Scenario"
The rotating shot of doors opening and closing along a balcony is fascinating to watch.
5. BLACKPINK: "Ddu Ddu Ddu Ddu"
Lisa's colourful powder throwing that even Seungri couldn't help but imitate in "WHERE R U FROM"!
6. Red Velvet: "One of These Nights"
The slow shot of Yeri sleeping on the boat, filmed from overhead.
7. SEVENTEEN: "Change Up"
That shot of three members stacked on one chair is striking for both the arrangement and the colour blocking.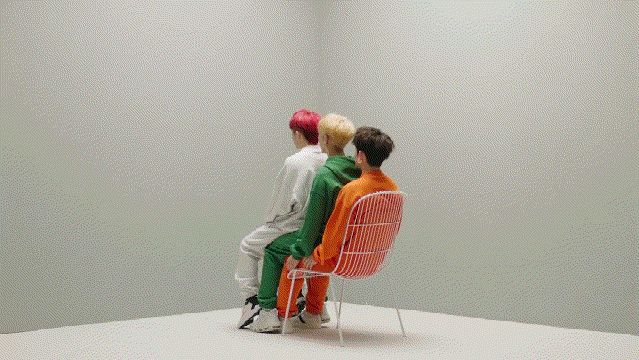 8. SHINee: "Good Evening"
The members dancing under the tarp and then the CGI-effect paint drip are both striking shots.
9. BTS: "Fake Love"
The water jetting out from behind Jimin in symmetrical perfection is hard to forget.
10. EXID: "DDDD"
Hani's transformation from smiling to serious is something to behold.
11. EXO: "Power"
Baekhyun falling to earth and sinking into the water is a powerful visual.
12. G-Dragon: "Untitled 2014"
The power of a silhouette is never more prominent than with this simple MV.
13. NU'EST W: "Deja Vu"
One Reddit user pointed out the moment Baekho seems to angrily walk in circles while dragging a sword as a standout moment from the MV.
Do you have a favourite shot from a recent music video?
---
Hear us on SBS PopAsia Digital Radio
Listen in 24/7 on Digital Radio, by downloading our free mobile app or by streaming live here on our website.
Download the app here: