EXO have been delivering hilarious variety television since debut, and with news that they're coming back in 2019 with a new season of Travel The World on EXO's Ladder featuring eight members, we figure it's the perfect time to get acquainted with all of their past shows!
Get ready to go on a trip down memory lane with these EXO reality shows!
EXO Showtime (2013)
Showtime was a reality series that focused on a different idol group each season. It began with EXO, and gave fans the chance to see behind the scenes of EXO's daily lives and when they're offstage. It was EXO's first reality show and came only a year after debut, making it many fans' first introduction to the boys and their personalities.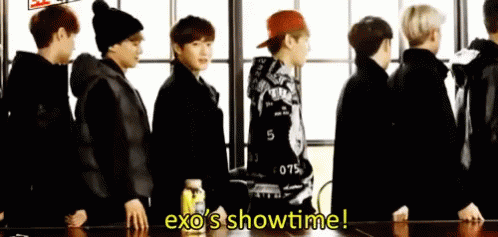 XOXO Hot Moment (2014)
Made up of four episodes, this show followed EXO in the lead up to their comeback with a focus on their achievements so far. It was clouded by some controversy when the second episode was cancelled the day before airing after Kris announced his lawsuit against SM Entertainment. 
EXO 90:2014 Time Slip (2014)
In this MNet show, EXO members filmed music videos of popular 90s K-pop songs and met members of groups like G.O.D. and Shinhwa in the process. The show had an interview element where they'd do amusing things like fan voicemails and acting out drama scenes. Eagle-eyed fans will also spot members of NCT in the music videos, although at the time they were SM Rookies.
EXO Channel (2015)
This reality show is more like a documentary, and was created mainly to introduce EXO to a Japanese audience. It's got more of a focus on one-on-one interviews and concert footage, but there's still some interesting group interviews and behind-the-scenes footage any dedicated EXO-L will love watching.
EXOmentary Live (2016)
Seen a recent EXO meme that you liked? Strong chance it came from this series. In 15 live episodes, EXO share aspects of themselves as individuals and as a group. You can see Sehun playing with his dog, Suho baking a cake, Chanyeol showing fans his studio, Lay brunching and chatting to fans, D.O cooking and Kai being deep in thought among much more. There's so much to entertain, from karaoke to cooking, it's the perfect way to fall deeply into the EXO world.
EXO Tourgram (2017)
You can follow EXO on their 2017 North American tour in this 30-episode series available on V Live+.  Showing everything from packing to trying out American food backstage, the show isn't only a fun insight into what EXO do when they're on tour, it's a great guide of the cities they visit. Suho and Sehun as travel buddies for life!
Travel the World on EXO's Ladder - EXO-CBX (2018)
Chen, Xiumin and Baekhyun are the stars of this 40-episode show that aired in 2018. The sub-unit EXO-CBX travelled around Japan's coastal Tottori Prefecture together, playing amusing games along the way. They make their decisions by playing a ladder game, and it gets very entertaining, especially considering you have two of EXO's loudest members involved.
Travel the World on EXO's Ladder - EXO (2019)
The second season of the show, this time featuring the joy of eight-member EXO! Set in Taiwan, the boys complete similar ladder games to make decisions - a lot of them based around delicious food. It's great to see the guys together and enjoy their dynamic as eight, and acknowledging that it's pure chaos every time. There's also some soft bonding moments too, like D.O cooking for the guys.
---
Hear us on SBS PopAsia Digital Radio
Listen in 24/7 on Digital Radio, by downloading our free mobile app or by streaming live here on our website.
Download the app here: