We're at the start of 2019 but there's still so much to catch up on from 2018, like the best Japanese dramas that aired!
The numbers have been tallied and the top primetime Japanese dramas have now been revealed. Check out the list below and tell us how many of these you've seen!
1. 99.9: Criminal Lawyer - Season 2
The second season of this show was a certified hit in Japan, following young lawyer Hiroto Miyama, played by Jun Matsumoto, as he seeks justice for the innocent by uncovering the truth in cases requested by clients.
2. Legal V
Another legal drama hit, this time Ryoko Yonekura is the lead character Shoko Takanashi, a former lawyer who was disbarred. Yet she persuades a professor/accredited lawyer to open a law office with her, and she hires a lawyer and paralegal alongside her to then go after a large firm in a civil suit that brings plenty of drama along the way.
3. Aibou - Season 17
The long-running crime show returned with another murder to be solved, this time involving patricide and ulterior motives. Detective Ukyo Sugishita (Yutaka Mizutani), Wataru Kaburagi (Takashi Sorimachi) and Toshio Aoki (Yosuke Asari) investigate the case with plenty of twists and drama to entertain.
4. BG: Personal Bodyguard
Takuya Kimura plays a former bodyguard turned security guard at a construction site. When his company starts a new bodyguard division, he's recruited as a novice bodyguard. But due to an incident in his past, he has to hide his experience in the role for fear of risking his son's life.
5. Black Forceps
Medical drama fans loved this show set in a hospital's cardiovascular department, featuring the heroics of surgery alongside the emotional stories of patients.
6. Stepmum and Daughter Blues
A family drama that won over audiences, this show stars Haruka Ayase as a career woman who marries a man with a daughter and is thrown into the task of dealing with housework plus raising her stepdaughter.
7. Special Investigation Nine
The #9 investigation team has been disbanded with members spreading out across Japan. When the Chief of the National Police Agency orders a new special team to be put together to take over the initial investigation, former #9 members return along with newbies to solve the case.
8. Downtown Rocket 2
Based on the novel Shitamachi Rocket Gosuto by Jun Ikeido, the second season picks up where the first left off, with Hiroshi Abe playing Kohei Tsukuda, the revered president of a workshop dedicated to pushing the development of spacecraft. Though it's not easy, and the company faces many setbacks as they make their space travel dreams come true!
9. Mikaiketsu no Onna
The detective mystery drama featuring double leads played by Haru and Suzuki Kyoka was a hit this year. In the show, a young detective transfers to a unit where they decipher unsolved case documents, and she begins to work with a senior detective with a talent for predicting the thoughts of a writer just from their writings.
10. Keishichou Sousa Ikkachou - Season 3
This popular crime drama series returned with Oiwa Junichi played by Naito Takashi, the head of the First Investigation Division of Tokyo's Metropolitan Police Department, who solves brutal crimes with his team.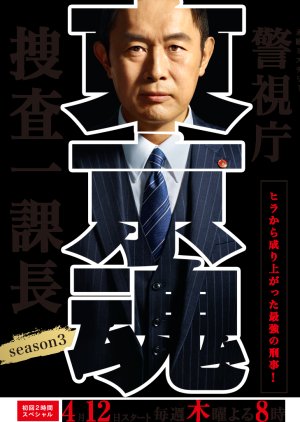 Do you have a favourite 2018 J-drama?
---
Hear us on SBS PopAsia Digital Radio
Listen in 24/7 on Digital Radio, by downloading our free mobile app or by streaming live here on our website.
Download the app here: