MONSTA X will be in Australia this June and we are counting down the days until they're in Sydney and Melbourne for their We Are Here tour.
If you're on the fence about heading to their shows, we've got some pretty convincing reasons you should be making sure you're in the audience for these shows.
1. Powerful performances like only MONSTA X can do
There's power, then there's MONSTA X power. We're talking ground-shaking, mind-blowing live performances with some of the most hype choreography your eyes have seen. All while most likely dressed in harnesses, leather and something lace. K-pop shows are always a wild time, but with MONSTA X's intense moves and on point styling, it's going to be next level.
2. IRL fanchants
Pop concerts are fun, sure, but K-pop concerts are something else entirely. You've got the group-specific fan lights, and of course you've got fanchants. After watching the videos online and having heard it on screen, don't you want to see and hear it in real life?
3. Sing along to English versions of their songs!
MONSTA X have been working hard promoting English-language versions of "Play It Cool" and "Shoot Out", all so that international fans can have a chance to sing along. If you don't speak Korean, this is your chance to get into that audience participation in a whole new way.
4. Just seeing their beautiful faces 
Look, we're not going to pretend that MONSTA X aren't some of the most beautiful men we've ever seen because that would be a dirty lie. Not only are they seven visuals in a row, they're also talented dancers, singers and have charisma for days. Now imagine all that, in the same city as you. 
5. Living for the memes
We already know Hyungwon is a meme king, but think of all the memes being made on stage that you could witness with your own two eyes. All the fancams you could shoot, the outfits you can admire and the names you can scream!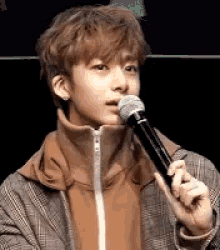 Now that you're on board, get your tickets for MONSTA X at Sydney's ICC Theatre on Wednesday 5 June and Melbourne's Margaret Court Arena on Saturday 8 June right here.
This post is sponsored by Frontier Touring.
---
Hear us on SBS PopAsia Digital Radio
Listen in 24/7 on Digital Radio, by downloading our free mobile app or by streaming live here on our website.
Download the app here: