First Contact S2 Ep1
Ray Martin takes a group of six well-known Australians with diverse, deeply intrenched preconceptions and opinions about our nation's Indigenous people on a journey into Aboriginal Australia when First Contact returns for a brand new season over three big nights. The participants are singer-songwriter Natalie Imbruglia, ex-One Nation politician David Oldfield, TV personality Ian 'Dicko' Dickson, comedian Tom Ballard, former Miss Universe Australia Renae Ayris, and actress Nicki Wendt. In this first episode, the journey begins in Uluru before host Ray Martin directs the group to Kununurra in the Kimberley, Western Australia, where the Aboriginal community is battling against alcohol, family violence and suicide. To select Arabic or Chinese subtitles, start the episode and click on the cc icon in the bottom right hand corner of the screen and choose your language.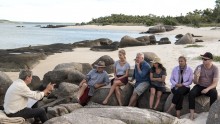 Awaken S2016 Ep1 - First Response - First Contact Special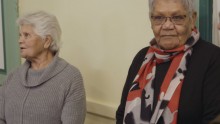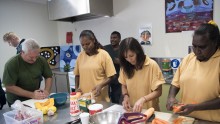 First Contact stories
Come on this journey of discovery into Aboriginal Australia.
Free education resources
Take the discussion from the TV screen into the classroom with supporting classroom resources from SBS Learn.
Discover
Across the SBS Network delve into Australia's rich Indigenous culture