Bahati came from Burundi and Maisara from the Democratic Republic of Congo. They settled in a refugee camp in Kenya. As a young man, Bahati lived in this camp for nine years. It was here that he met and married Maisara. But the camp was not a safe haven. Civil unrest and crime was common. They lived in poverty in makeshift accommodation without adequate food, water or health care for themselves or their newborn children.
Now, Bahati and Maisara are among the 1 per cent of the world's refugees who have been re-settled by the United Nations. A Humanitarian Visa has enabled Bahati to legally immigrate with his family to Australia. They now live on the NSW and Victorian border in Albury Wodonga with their children.
In this clip both Bahati and Maisara share their individual stories of persecution, injustice and tragedy with their guests Raye, Raquel and Roderick.
CLASS ACTIVITIES 
Task 1: Push and Pull Factors
Often when a person flees their own country they are forced by a number of reasons called Push and Pull factors. 
a. What is the definition of the term Push and Pull factors?
b. Write a list of 5 Push and 5 Pull factors that influenced Maisara's decision to flee from her homeland to the safety of Australia.
c. Watch the clip. It is clear that while Maisara is pleased to be able to raise her children in the safety and wellbeing of Australia, she misses her sisters in Kenya. Often, for a refugee, the emotional journey to a new homeland is complex. Write a letter from Maisara to sisters describing her family's new life in Australia – including specific references to the Push and Pull factors you have identified that Maisara must be experiencing.
Task 2: Terror and Persecution
Watch the clip and focus on the career similarities between Bahati and Roderick. You may need to watch it several times to fully appreciate Roderick's response to Bahati's story and how closely it resembles his own life. 
a. Write a 250-word description of Bahati's life in Burundi prior to the war, and what happened once war broke out. Conclude by explaining why Bahati cannot continue his explanation and why Roderick is so shocked. 
Task 3: Informed Humanitarian Attitude
The Ipsos Mackay Report 2011 researched Australian community attitudes to asylum seekers and identified four main attitudinal groups, listed in the graph below.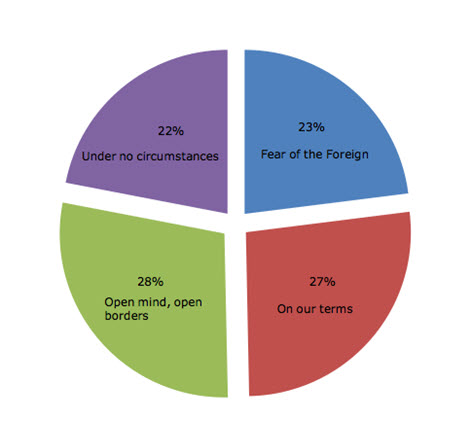 Figure 2: Attitudinal Segmentations
The Ipsos Mackay Report 2011 
a. In your own words, describe the four attitudes and the relating percentages in this pie graph in four separate sentences. 
b. If you were asked to participate in this survey, in which group would you belong?
c. Now, with regard to Bahati, Maisara and their children as an example of happily settled, community-minded refugees, respond to the remaining three attitudes in separate paragraphs by writing a convincing explanation as to why these attitudes may not represent a humanitarian viewpoint.
Reference: The Ipsos Mackay Report
This printed work is licensed as a Creative Commons Attribution-Non-Commercial-Non-Derivative Work (Australian v3.0). Users may distribute the work for non-commercial purposes (including educational purposes) as long as the work is unchanged and is attributed as follows: Go Back to Where You Came From Educational Resource Copyright 2011 SBS.