This clip may be played in class for free. For a full copy of the program episodes to play in class please contact VEA. 
Adam, Darren and Gleny meet a small group of Iraqi refugees who arrived illegally in Australia by boat. The Iraqi's applications have been processed, their refugee status is acknowledged, and now they have been granted permission to live in Australia. The three participants go with the Iraqis to Villawood Detention Centre to visit some refugee friends who have been detained by Immigration Officials.
Located in Sydney's western suburbs, the Villawood Immigration Detention Centre (VIDC) is a complex of three main buildings that was originally used a migrant hostel. But in the early 1970s it was modified and re-opened as an immigration detention facility in 1976. The Centre accommodates 371 people. People are detained at VIDC because they have no legal permission to live in the community. This includes people who have over-stayed their visas, those that have had their visas cancelled and those who have arrived without visas.
Today according to the Department of Immigration, approximately 6729 people are detained in detention centres around Australia. This includes 5117 people on mainland Australia and 1612 in immigration detention on Christmas Island.
The United Nations Commissioner for Refugees (UNHCR) guidelines on Applicable Criteria and Standards relating to the Detention of Asylum-Seekers (1999) states: The detention of asylum-seekers is, in the view of UNHCR inherently undesirable. This is even more so in the case of vulnerable groups such as single women, children, unaccompanied minors and those with special medical or psychological needs. Freedom from arbitrary detention is a fundamental human right and the use of detention is, in many instances, contrary to the norms and principles of international law.
For Australia as a nation, the caring of refugee asylum seekers who seek safe haven in our country is a complex issue. Solving the problem with a desirable humanitarian management solution is challenging.
CLASS ACTIVITIES
Task 1: Detention in Australia
The graph below illustrates the number of people in detention in Australia during the past 20 years.
a. With reference to international conflict, write an account of why these numbers have fluctuated and in recent years, risen dramatically.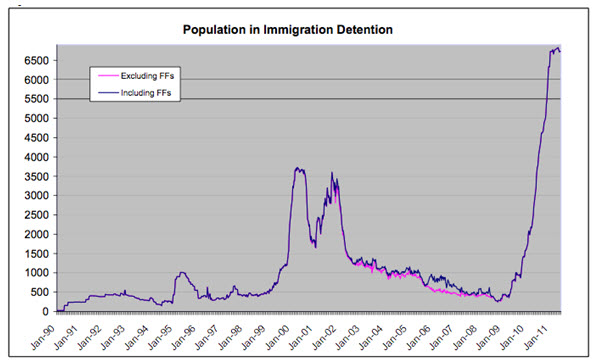 b. Analyse the information below about the location of people in Australia's Detention Centres, and re-write it in paragraph form.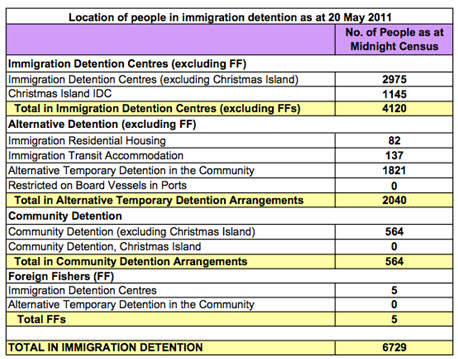 When Gleny, Adam and Darren go inside Villawood Detention Centre and meet some of the detainees, they emerge visibly affected by the experience. 
c. Describe their individual reactions. 
d. How has this experience changed their individual attitudes to asylum seekers and detention?
Task 2: Detention of Children
Of the 6729 people in immigration detention in Australia in May 2011, 1082 of these detained people are children under the age of 18 years.
a. This table presents four different types of detention for children. Research and describe the conditions for each detention type.

UNHCR Guideline 6 specifies in accordance with the Convention of rights, that minors under the age of 18 who are asylum seekers should not be detained. An International Convention of Rights and UN Rules to protect children set a humanitarian recognition of an accepted duty of care.
b. What is the 1951 Convention of Rights? What did it declare? Is Australia a signatory country of this convention?
c. Investigate the United Nations Rules for the Protection of Juveniles Deprived of their Liberty 1990. Write a summary paragraph explaining these rules and outline the humanitarian policies relating to children in detention.
d. Research the UNHCR Guideline 6. Make a list of the standards of care the Guideline specifies in relation to children in detention.
Task 3: Alternatives to Detention
THE UNHCR has put forward a number of alternatives to the detention of refugee asylum seekers until their individual status is determined. These alternatives, the UNHRC recommends, can be based on the assessment of the asylum seeker's personal circumstances.
These are:
Monitoring and Reporting
Provision of a Guarantor
Bail
Open Centres
a. In relation to the Iraqi people Gleny, Adam and Darren visit in Villawood Detention Centre, write a report explaining how and why each of these alternative methods of managing asylum seekers may be a more humanitarian option. 
Reference: The Ipsos Mackay Report
This printed work is licensed as a Creative Commons Attribution-Non-Commercial-Non-Derivative Work (Australian v3.0). Users may distribute the work for non-commercial purposes (including educational purposes) as long as the work is unchanged and is attributed as follows: Go Back to Where You Came From Educational Resource Copyright 2011 SBS.
Graphs and tables sourced from: Australian Government – Department of Immigration and Citizenship.