Safe Harbour | Complete Season Now Streaming on SBS On Demand
Friends on a sailing holiday discover a struggling fishing boat overloaded with asylum seekers. Deciding to tow the refugees, they wake the next morning and find the fishing boat gone. Who cut the rope between the two boats?
Did they know it would end with tragic consequences? 
Safe Harbour S1 Ep1
Five Australians on a sailing holiday come across a fishing boat full of desperate asylum seekers. Deciding to help, they tow the boat but, in the middle of the night, it disappears. Years later, one of the Australians, Ryan, steps into a taxi driven by one of the refugees, Ismail. Overjoyed to learn the refugees reached Australia, he invites Ismail and his family to a barbeque - reuniting everyone. It's there that Ryan and the others learn the truth - someone cut the rope between the two boats and, as a result, the fishing boat sank and seven people died, including Ismail's nine-year-old daughter. Old secrets come to light, relationships are shattered and lives are put in danger.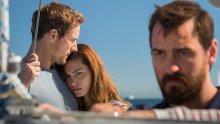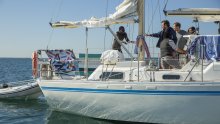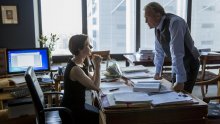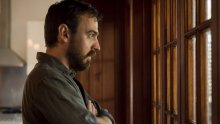 At the helm
Explore the thrilling new drama series ahead of its launch.
New horizons
Exploring the humanity of Safe Harbour.