For the first time on television JABBED reveals real, remarkable and deeply emotional journeys of families facing key vaccination issues. These powerful stories give unique insight into the risks of opting in, and the risks of opting out.
Warning: some stories may be distressing for some viewers.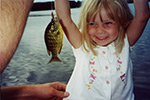 Abigale Peterson – Minnesota, United States
Abigale Peterson was five years old when she and her family paid the ultimate price for lack of protection from one of the world's most common, aggressive and vaccine-preventable infections – pneumococcal disease. In 10 hours she went from playing with her brother to dying in her mother's arms in the back seat of a car as they rushed to hospital. Abigale had received most of her vaccines, but not the one for pneumococcal disease.
(Abigale died on 18th of February 2001.)
Click here
for an extended interview with Abigale's mother Shannon Duffy.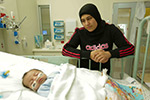 Osman Chandab – Melbourne, Australia
Osman Chandab is seven weeks old.
He is one week away from having his whooping cough (or Pertussis) vaccination, but the germ has got to him first. Now desperately ill, with added complications from pneumonia, Osman needs medical and breathing support 24 hours a day. His cough is deep, relentless and harrowing.
There is no cure for whooping cough; antibiotics can only help stop the spread of infection.
For every 250 babies hospitalised with whooping cough in Australia in 2010, one died.
Click here
for an extended interview with Osman's mother Joumana.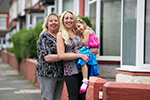 Kristina Leatherbarrow – Liverpool, United Kingdom
At 26 Kristina Leatherbarrow is usually a busy mum and nurse working at the Liverpool University Hospital. But today she is a patient, housed in an isolation ward and seriously ill with measles. Unvaccinated because of concerns about allergies, she is one of 500 or so people infected in the Liverpool area in 2012 - the largest outbreak of measles in over 25 years. The fact that she is a young adult means the measles virus is hitting her harder than it would hit most children. One in 1000 measles cases can develop serious complications, leading to brain damage, hearing loss and, in rare cases, death.
Click here
for an extended interview with Kristina's mother Elaine.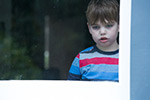 Luke Philbin – Melbourne, Australia
At six years of age Luke Philbin has had over 500 seizures, which have left him brain damaged and vulnerable. He was a healthy, happy and apparently normal baby when, at six months of age, he had his routine vaccinations. 17 hours later he had a seizure that landed him in hospital. The seizures continued, each one damaging his brain further. His parents, Sam Jackson (42) and Tom Philbin (40), believed the vaccine was to blame until, after many months of searching the world for answers, they discovered the clues lay just across town.
Click here
for an extended interview with Luke's parents Sam and Tom.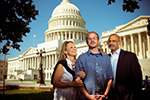 David Salamone– United States
David Salamone made headlines when he was a child, because he acquired polio from the oral polio vaccine. Now 22, this is the first time he has appeared on television to tell his family's epic story of changing the polio vaccine. Originally a 'live vaccine', it was effective but carried a one-in-2.4-million risk of causing the very disease it was designed to prevent. The Salamone family set out to reduce that risk to zero.
Click here
for an extended interview with David.
Click here
for an extended interview with David's parents John & Kathy.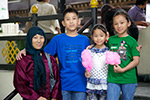 Dorji Om – Bhutan
At 30 years of age, Dorji Om has a lot to live for. She adores her three children and, until recently, enjoyed her happy productive life working at the Thimphu markets with her husband. But she has advanced cervical cancer and it is killing her, despite the best medical treatments available. Now in Bhutan there is a vaccine to help prevent this disease: the HPV (Human Papillomavirus) vaccine stops the virus that starts the cancer. It is being rolled out across the world in an attempt to stop not only cervical cancers, but several other neck, head and genital cancers caused by the same virus. But for Dorji Om the vaccine comes too late. (Update - Dorji died on March the 6th 2013 in hospital in Thimphu, Bhutan.)