Crew and Recruits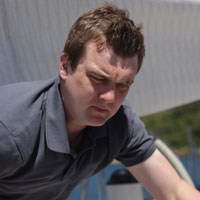 Bart Bunting
Blind from birth, Bart Bunting doesn't let his disability stop him from undertaking extreme, and some would say maddening sports. Going downhill on a 60 degree slope as fast as you can probably seems crazy to most. How about doing it with your eyes shut?

Bart has had an extremely successful career as a professional athlete, including gold and silver medals won at the 2002 Salt Lake City Paralympic Games for downhill, super G, and giant slalom events. His achievements meant that he was given the honour of carrying the Australian flag at the closing ceremony of the Games.

Always into sports (he completed the City to Surf five times when he was in primary school and early high school) and then moved into triathlons later in his school life. He also has been a keen enthusiast for rock climbing and canyoning.

Bart decided to add sailing to his cap, and despite knowing the particular challenges for blind people on a boat (for example, how do you know which rope to pull when you can't see what colour it is or what it is connected to?) he gave it his best shot. On board the boat, his guide dog Winslow, who was tied up to the back of the boat for the sail around and out of the Harbour.

Bart completed a degree in computer science at the University of Technology Sydney, and now works as a computer programmer in Sydney.




Order your 2010 FIFA World Cup DVDs today - The Final, Socceroos, NZ and the Highlights!

The gripping conclusion to the innovative Danish thriller - a heinous crime impacts throughout Copenhagen.