Award Winning Drama
East West 101, Season 3 ‐ The Heroes' Journey wins the AACTA Award for Best Television Drama Series.
February 1, 2012
East West 101 Season 3 wins the Award of Excellence: Miniseries at the Accolade Competition 2011, in Los Angeles.
April 13, 2011
Leading Australian talent join the cast of East West 101
September 16, 2010
Two of Australia's most talented rising stars, Matt Nable (
The Final Winte
r,
Mei Mei
, S
IS: Special Investigation Section
) and Aden Young (
Mao's Last Danc
e,
Cosi
,
Black Robe
) have joined the cast of SBS's multi-award winning drama East West 101. Both have recently completed filming
The Killer Elite
, with Robert De Niro and Clive Owen.
Matt Nable said: "I am thrilled to be joining this highly acclaimed drama and brilliant cast. I have great respect for the producers and crew, and have been a fan of the show for some time. The messages of the production are relevant for all Australians."
Nable and Young, along with a stable of others, including Aaron Jeffrey (
McLeod's Daughters
,
X-Men Origins Wolverine
), Tammy MacIntosh (
All Saints
), Richard Carter (
Wildside
), Robert Mammone (
Underbelly
), Jacek Koman (
Moulin Rouge
), Gosia Dobrowolska (
Silver City
), Victoria Haralabidou (Martin Scorses's
Nyfes
) and Rena Owen (
Once Were Warriors
) join the cast as filming for the new season begins this week in various locations across Sydney.
Returning for the third season are the stars of the program, Silver Logie winner Don Hany, multi AFI and Logie winner Susie Porter and accomplished performers Aaron Fa'aoso, Renee Lim, Daniella Farinacci and Tasneem Roc.
Don Hany said: "I am proud to be involved in the program. It speaks about messages that are important to all Australians. After reading the scripts for this season, I couldn't wait to get back on set."
Susie Porter said: "Without giving too much away, Inspector Wright struggles in the upcoming season with personal dilemmas and decisions that shocked me to the very core of my own moral fibre."
East West 101, created by Knapman Wyld Television for SBS, will return to screens for this third season in early 2011, this time exploring the fallout from the wars in Iraq and Afghanistan through crimes committed in Australia.
Producer Steve Knapman said: "The third season presented the usual challenge, if not a greater one. The inspiration behind the scripts came from the war zones of Iraq and Afghanistan. I was interested in exploring the universal truths of the experience of combat on men, as well as the 'collateral damage' of innocent civilians that was the consequence of such supposed 'humanitarian intervention'."
Producer Kris Wyld said: "In this season we put Malik and Wright under intense pressure. When a cop's personal life is directly affected by an act of crime, just how far will he or she go in pursuit of justice? Watch and see."
Caterina DeNave, Executive Producer, Drama & Comedy, SBS said: "East West 101 is an extraordinarily special show, and we are thrilled to be working on the third season with Knapman Wyld, and the phenomenal cast and crew. I cannot wait to see Malik and Wright interact on screen with the hot new talent in 2011."
Accolade Awards Los Angeles
July 15, 2010
East West 101 has been honoured at the
Accolade Film, Television, New Media & Videography Awards
in Los Angeles. The show took home three awards, including:
Award of Excellence: miniseries
Award of Excellence: leading actor (Malik - Don Hany)
Award of Excellence: supporting actor (Skerrit - Gerry Lepkowski)
The Awards recognise "cinematic gems and unique voices" and notified the show's producers, Kris Wyld and Steve Knapman, that: "The judging standards are high and winning means the craft and creativity exhibited by your entry is outstanding and stands above other productions."
East West 101 wins Gold at the New York Festivals TV and Film Awards
May 4, 2010
Hot on the heels of its double Logies win, SBS drama East West 101 has won a Gold Medal for Best Mini-series at the New York Festivals International Television and Film Awards.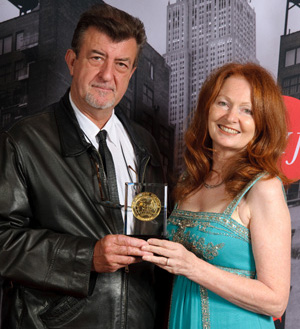 The awards recognise the world's best work in news, documentary and entertainment. The Awards include entries from over 30 countries and some of the most well known and widely respected broadcasters globally.
"After beating out massive Australian dramas like Underbelly and Packed to the Rafters, East West 101 has now beaten out some of the world's best work to secure Gold," SBS Managing Director Shaun Brown said.
"Congratulations to producers Kris Wyld and Steve Knapman [pictured right] who were in New York to pick up the award. East West 101 is a story about diversity and there is no better broadcaster to back this series in Australia than SBS."
SBS's Director of Content - Television and Online Matt Campbell said: "Critics across the world have recognised the quality of East West 101. It is captivating television with brilliant writing and direction as well as a stellar cast and crew.
"SBS is incredibly proud to be associated with East West 101 and we look forward to working with Steve, Kris and the cast and crew on the third instalment of this amazing series."
East West 101 triumphs at the Logies
May 3, 2010
SBS Crime Drama East West 101 celebrated victory last night with two awards. The drama won TV Week Silver Logie award for Most Outstanding Drama Series, Miniseries or Telemovie beating off stiff competition from other networks.
The award was accepted by Susie Porter, Don Hany and Matt Campbell. The critically acclaimed crime drama series follows members of a major crime squad, as they investigate felony and murder in Sydney. A third series is currently in pre-production.
Don Hany was awarded the TV Week Silver Logie – Most Outstanding Actor for his performance in East West 101. This was Hany's second Logie nomination for his role as Zane Malik, the Muslim detective struggling to balance his work with his cultural and religious beliefs.
In 2009, East West 101 picked up three AFI awards including the prestigious gong for best Miniseries, best lead actress for Susie Porter, and best director in television for Peter Andrikidis.


East West 101 cleans up at AFI Awards

Australia's love affair with crime drama has been recognised at the AFI Awards, with East West 101 picking up three awards in the television categories.
The series took out the most prestigious gong for best TV drama series, beating hit shows like Packed To The Rafters, Underbelly and Satisfaction.
Susie Porter, who plays Inspector Patricia Wright, triumphed over Packed To The Rafters' Rebecca Gibney in the lead actress category.
East West 101's director Peter Andrikidis won the director category.
The acclaimed director paid tribute to SBS.
"Thank you for commissioning a drama that truly represents a multicultural Australia in 2009," he said.


More About The Show

Series 2
In Season Two, East West 101 expands to seven episodes as the Major Crime Squad investigate crime and murder in all quarters of multicultural Sydney.
But overarching all, is the quest for Detective Zane Malik to find the truth behind a car bomb attack which kills two men.
The Major Crime Squad form a joint task force with the NSO (National Security Organisation) to deal with the crime. There is paranoia in the city and fallout on the Muslim community.
Malik knows that in order to stop the circle of hate, he must solve the crime. Was the bomb really an act of extremists, as the media suggest, or a sophisticated killing by a career criminal? Malik doggedly pursues the truth until he, too, becomes a target.
Inspector Patricia Wright questions his motives but her vision is clouded by personal issues she wants to remain hidden from the squad. Crime has touched her own family.


Series 1
Zane Malik is a young detective at the Major Crime Squad. He is also a Muslim. And as a Muslim detective in a post 9/11 world where just to be an Arab, is to arouse suspicion and fear, Malik feels under pressure to prove himself, over and over.
Snr Detective Crowley was a detective of the old school, where rules and regulations layed a poor second to getting a result. Crowley is a man at odds with the times. Not just the times, Crowley's at odds with everything and everyone, even himself. If he's at war with anyone, it's Zane Malik.
Malik battles with Crowley across six hours as, from Lakemba to Chinatown, they investigate the murders and crimes of a big city.
EAST WEST 101 is the story of two men whose destiny is irrevocably intertwined. Malik is driven by a hunger for justice. He was twelve and at the till, when a masked gunman held up the family shop. Malik refused to hand over the money. His father was shot and injured. Since he joined the Force, Malik has been looking for the shadowy figure who pulled the trigger.
When he finally finds him, Malik's belief in the justice system is challenged by a powerful desire for revenge. As he hunts down the truth it is revealed that Crowley had a part to play in the original investigation. But will Crowley help or hinder Malik in his quest? He is a man whose vision has been blighted by pain and prejudice.
Crowley's son, Paul, was found dead of a drug overdose sold to him by a Lebanese dealer. When the drug dealer, who sold Paul the heroin, is found murdered, Internal Affairs come asking questions. Looking for answers. Not just from Crowley. Malik also. He was involved in the case. Crowley is at the mercy of Malik. Will Malik end his career? What will Crowley do to stop him?
There's an edge of danger as these two men circle one another. This might look like the battle between two strong men for dominance - but it is also a metaphor for the fear that exists between East and West - as two men search for love, approval and forgiveness.
PRODUCERS
Steve Knapman & Kris Wyld
DIRECTOR
Peter Andrikidis
PRODUCTION COMPANY
EAST WEST 101 PRODUCTION OFFICE
Unit 3, Building 103,
(FSA#96) Fox Studios Australia
38 Driver Avenue, Moore Park NSW 2021
Tel: +612 83532320 Fax: +612 83532321
Email:
knapmanfilms@bigpond.com
Website:
www.knapmanwyld.com.au
Study Guide
ATOM, through its publications arm (Metro Magazine and Screen Education), produces study guides and educational kits for TV programs, feature films, documentaries and exhibitions.

Download the guides for East West 101.


More...
Awards
East West 101, Season 3 ‐ The Heroes' Journey wins the AACTA Award for Best Television Drama Series.
Read More

Det. Malik and the MCS handle a major robbery with possible links to acts of terror.

Tough and compelling drama with Det. Malik and the Major Crime Squad.