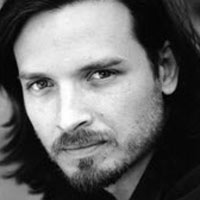 Aden Young

Actor and filmmaker, Aden Young's first role was in 1991 in Bruce Beresford's Black Robe. Aden was in 2010 film The Tree, an Australian, French, Italian co-production directed by Julie Bertucelli in which he played the husband of Charlotte Gainsbourg.

Aden Young plays the role of Kendrick in East West 101 series 3. Kendrick is an ex-soldier, a highly intelligent, and seasoned soldier and mercenary. He's conquered the heart of the ex wife of new cop, Neil Travis. But what has he set as his next objective?

"I remember flicking across one night to the show and just being spellbound by the originality and quality of the show. Nothing I had seen of Australian TV drama came anything close. Kendrick is somebody who recognises the opportunities created by cultures in conflict, and is a predator as such, inhabiting the wasteland between the battle lines for profit - bereft of any morale compass."
Study Guide
ATOM, through its publications arm (Metro Magazine and Screen Education), produces study guides and educational kits for TV programs, feature films, documentaries and exhibitions.

Download the guides for East West 101.


More...
Awards
East West 101, Season 3 ‐ The Heroes' Journey wins the AACTA Award for Best Television Drama Series.
Read More

Det. Malik and the MCS handle a major robbery with possible links to acts of terror.

Tough and compelling drama with Det. Malik and the Major Crime Squad.