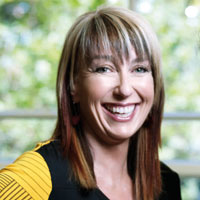 Maeve O'Meara
Maeve O'Meara is living her dream – a life punctuated with fabulous food and many friends to share it with, much of it in exotic locations and cosy home kitchens. Maeve is an award-winning food and cooking author, journalist, broadcaster, television producer and presenter who has spent many years travelling the world discovering food. Italian Food Safari continues the dream – after living in an Italian area of Sydney for some years and spending time in Italy, she reveled in the chance to feature friends of many years and to celebrate one of the world's great cuisines.

Maeve is presenter of the acclaimed series Food Safari and a recently released book of recipes from the series Food Safari – Glorious Adventures Across a World of Cuisines has been a bestseller. Maeve has worked with Toufic Charabati through their company Kismet Productions for many years to produce Food Safari and Italian Food Safari, is their third collaboration. Maeve has won awards for her work in print, radio and television, notably for The Food Lover's Guide To Australia and for her work as Food Presenter on Channel Seven's Better Homes and Gardens. As well as the Food Safari recipe book, Maeve has co-authored 11 books, including the cookbook "Lamingtons and Lemongrass" and the best-selling "SBS Eating Guides To Sydney".

Maeve is a former Food Editor of Family Circle and New Woman magazines and has spent more than 10 years on ABC radio discussing food including many years on the "Relish" program. She also spent many years writing for the Sydney Morning Herald's Good Living section and other food publications. An extension of her passion for food across many cuisines has been her highly successful food tourism business, Gourmet Safaris which has been running for 12 years and in 2007 was voted was voted "Best Tour Operator" in The Australian newspaper's prestigious Tourism and Travel Awards.

Maeve is also an ambassador for the Sydney charity OzHarvest which collects unused food from restaurants, cafes and caterers and distributes it free of charge to organizations that feed needy men, women and children. Maeve comes from a close-knit family who all live within a stone's throw of each other. Her three children all love their mother's cooking and very occasionally cook themselves.

Next On
Episode 13 :
Thursday 02 July 2015, 6:00PM
In this final episode, Italian Food Safari visits the Vanella Cheese Factory in Far North Queensland and presenter Guy Grossi learns how...
Read More

A delicious celebration of the Italian kitchen with Maeve O'Meara and Guy Grossi.

Take a Food Safari to the SBS shop to find all your favourite products.