1 May 2013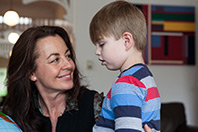 JABBED Director, Sonya Pemberton, Introduction
: I am an independent documentary filmmaker. I'm not a scientist (although I love science), I'm not a vaccine advocate (although I'm vaccinated). I am someone who accepts the need for vaccines, and yet has questions. I seek a new conversation around vaccination, one where we can ask questions without being rude, where we can embrace complexity. Where do you stand on the issue of vaccination? What - if any - concerns do you have?
Is it time for a new conversation around vaccines?
In 2009 I made a documentary called 'Catching Cancer', which explored how some cancers are caused by viruses and how this is surprisingly good news - for if a virus is to blame, then we can try to create vaccines to counter them.
After the film went to air I received lots of feedback, mostly positive. But I also received feedback from people strongly opposed to vaccines, particularly the cervical cancer vaccines, and some of this feedback was angry, even nasty.
This experience started me thinking, why are some people so afraid of vaccines? Any proven way to stop a disease seemed a sound idea to me! But I come from a medical family and I've spent my adult life making films about science, so this level of mistrust was alien. I wanted to understand.
So began three years of reading, researching, talking to parents and scientists, and – critically - exploring Internet sites. I quickly discovered a deep undercurrent of concern around vaccines.
I spent months listening to stories: stories of children who died from lack of a vaccine; stories of children seriously hurt after vaccines; and stories of parents trying to make sense of it all. There was a point when I was overloaded – I cried so many tears for so many families, I was exhausted from all the statistics and counter statistics, and weary of the ridicule and nastiness on both sides. I was scared of the diseases and scared of the rare (but real) vaccine reactions. It all seemed too complex. At that point I wanted to walk away from making a film about vaccines.
But the stories stayed with me. In 2012, my team and I set off to ask people to share their stories, to see if we could generate a new style of conversation around vaccines.
Now with the documentary completed, I realise I have travelled a remarkable journey.
Three years ago I was an unquestioning vaccine supporter. Then, as I began delving deeper, I realised that occasionally vaccines can do harm. I understood the extraordinary freedom from disease vaccines have delivered, but now I also understood the fear.
Today I see that there are risks involved, and how it helps to have these risks acknowledged; that it is a business like so many others (one driven by extraordinary people and flawed people) and we must pay attention and hold it accountable; and that it is a world of breathtakingly powerful science, science that is constantly evolving.
I came to my conclusion – that vaccines are not perfect, but they are the best option we have right now.
Today when someone says to me they don't 'believe' in vaccination, I no longer thunder back crossly," It's not about faith, it's science!". Instead I ask them, "Why?" Their reasons are as varied as the people themselves. They often teach me a great deal and many are genuinely seeking a conversation, not simply looking to affirm their pre-existing position. And so we listen to each others stories.
Web Chat Closed
Hello. Sonya Pemberton here, director of JABBED. It's been an amazing few weeks since JABBED went to air on SBS ONE. We, here at the JABBED team, are grateful for your comments and interaction; it's an important subject, one that impacts us all. Thank you for taking part. This SBS web-chat must now come to an end. If you want to continue the conversation, please visit us at www.facebook.com/jabbedtv.
Before we sign off, we are very pleased to announce that JABBED – LOVE, FEAR AND VACCINES has broken SBS records becoming the "most successful commissioned single documentary in recent history".
" … In terms of impact on national discussion, audience reach and response from viewers and health professionals it has been a tremendous success. The television audience was 25% above the usual for the time slot and JABBED received a 6.1% audience share. Viewed by over half a million people, it can claim the most number of catch up views of any commissioned single documentary in SBS history. It had the largest number of comments on the website for a single documentary, and was a huge social media hit, trending in the top 5 on Twitter nationally, and reaching over 1,000,000 Facebook users. Health professionals have been in contact in their hundreds saying how JABBED has changed views on immunisation, scientists have congratulated the film on its balanced evidence-based tone, and the response from parents has been overwhelming. JABBED has succeeded in starting a remarkable, new, national conversation around vaccination."
John Godfrey, Senior Commissioning Editor – SBS Documentaries.