Series Overview
MY FAMILY FEAST RETURNS ON THURSDAY, 24 JUNE @ 7:30PM ON SBSONE
Award-winning chef Sean Connolly is back with more episodes of the popular My Family Feast - a celebration of food, family and stories of life.
Food is the central theme that brings families and communities together and this new series defines a family as a group of people who come together to eat, to talk, to have fun and to support each other: a group of people who are very often in a strange land trying to retain their traditional culture and to live and understand a new culture.
Inevitably the cultures combine and adapt in sometimes most surprising ways. My Family Feast is Sean Connolly's first television series and is based around his desire to delve beneath the surface when it comes to the cultural aspects of dining.
"The concept of My Family Feast is incredible… to be invited to share food with some of this country's most interesting and diverse families, is a true privilege. It is amazing to see how food really forms the basis of these intricate family relationships," says Connolly, who runs two restaurants at Sydney's Star City - Sean's Kitchen and Astral.
Connolly is able to take viewers into the lives and cooking traditions of Australian immigrants and their families.
Part cultural profile, part cooking show, Australians with diverse ethnic backgrounds generously invite viewers into their homes and introduce their families and share their cultural traditions.
The crux of the show is based on Connolly being guided through the process of developing a family feast, using recipes passed from generation to generation.

Episode Eight – The Indians (Thursday, June 24 at 7.30pm on SBS ONE)
Bengali bride Shrabastee and her Punjabi groom Ankit represent the coming together of two traditional Indian families in the heart of Australia. Sean Connolly is invited to their wedding, which culminates in a colourful and opulent vegetarian feast. A week later, family and friends invite Sean to view photographs of the occasion and farewell their daughter who will now join her husband's family. A banquet of traditional Indian dishes is prepared - a lamb and a fish curry, potato with spinach and poppy seeds, roti and sweets - and Sean learns the significance of these dishes to the young newlyweds.

Episode Nine – The Argentineans (Thursday, July 1 at 7.30pm on SBS ONE)
Sean Connolly meets Graciela Yoia at the flamenco dance school she has been running for 27 years with her husband Ricardo. The school has become not only a family business, but a community hub through which they have formed many close friendships. Every Sunday the Yoia family invite their friends around for a famous Argentinean barbeque known as an Asado - combining the two great Argentinean loves: dance and meat. It's a colourful occasion that Sean will never forget.
Greek, Serbian, Balinese and Afghan episodes in weeks to follow…
Special thanks goes to
www.migrationheritage.nsw.gov.au
ABOUT THE HOST
– Sean Connolly - Chef/Restaurateur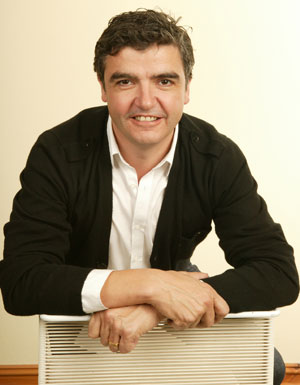 Sean Connolly's passion for cooking has been evident since the day he enrolled as the only boy in his Yorkshire school's home economics class. Ever inspired by his grandmother's cooking, Connolly took his passion further and started his chef's apprenticeship at the Pennine Hilton, Ainley Top in Leeds, working for free two nights a week at the age of thirteen.
After continuing his apprenticeship in various restaurants throughout the UK, Connolly found his calling during his tenure at the Princess Grill, aboard the world's most luxurious cruise ship, the QE2. It was there that Connolly developed his love of luxury, catering for the rich, the famous and the fussy, who were able to order outside of his menu, according to their individual tastes, on any day at any time.
After arriving in Australia in 1988 on a working holiday, Connolly soon fell in love with the local weather, produce and burgeoning food scene. After various sous chef roles, Connolly's talent quickly led to his appointment at Star City's Astral in 1995. With its spectacular 270 degree views across the city and harbour, Connolly has successfully worked to position the restaurant as one of Sydney's top fine-dining destinations.
The new menu at Astral challenges the concept of contemporary Australian fine dining by infusing distinct multicultural elements and reflects Connolly's commitment to fresh, local produce. Guests enjoy many dining options, from the customised menu in the breathtaking private dining room to the fast and fabulous pre-theatre dishes.
Upon naming Connolly the 2008 Sydney Morning Herald Chef of the Year, co-editor Joanna Savill noted: "Blessed with sound technique, wit, imagination and the intelligence not to try to hard, Connolly continues to entertain and please us," and it is this "potential for even greater things and sheer bloody talent" that ensures his star will continue to rise.
As Chef/ Restaurateur at Sydney's Star City Hotel & Casino, Connolly opened the doors to his second restaurant, Sean's Kitchen, in September 2008. This $6 million development further revitalises the Pyrmont dining scene, offering customers an inspired Mediterranean menu featuring the country's finest produce.
Connolly's consulting partnership with Restaurant Associates (RA), the boutique and fine dining division of Compass Group, since 2008, has not only given him the opportunity to provide support with on-going training and development within the culinary teams but create menus similar to those on offer at his fine dining establishments.
"Restaurant Associates is passionate about creating fresh, uncomplicated food, which allows for high quality, and seasonally sourced ingredients to speak for themselves," says Connolly. "This is a philosophy that aligns closely with my own and is reflected within the menus at my restaurants."
In 2009, Connolly dipped his toe into the television world, hosting the first 13-part season of SBS's My Fami ly Feast - a celebration of food, family and the stories of life.
Recent accolades include:
• Chef's Hat, 2007, 2008, 2009, 2010 Sydney Morning Herald Good Food Guide Awards
• Chef of the Year, 2008 Sydney Morning Herald Good Food Guide Awards
• Chef of the Year, 2008 GQ Man of the Year Awards
• One star, Australian Gourmet Traveller Restaurant Guide 2006, 2007, 2008 & 2009
• Chef of the Year, 2006, 2007, 2008 and 2009 Australian Hotels Association NSW Awards for Excellence
• Best Restaurant of the Year, 2007 AHA NSW Awards
• Best Fine Dining Restaurant in a Hotel, Restaurant & Catering Awards for Excellence NSW & ACT 2007
Next On
Episode 2 : The Italians
Wednesday 12 March 2014, 6:00PM
Sean Connolly is invited to a very special weekend four generations of the Pacialeo family who get together each year in late Summer for a...
Read More

Visit the SBS Shop online for DVDs and downloads of the programs you love.

Visit the SBS Shop online for fascinating books and inspiring cookbooks perfect for home and as gifts.