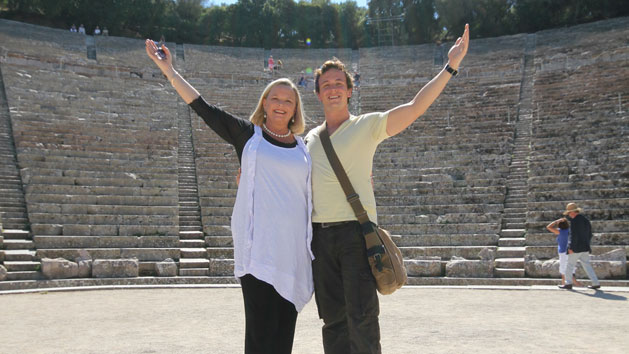 Lyndey & Blair's Taste of Greece
follows one of Australia's most recognised food and wine personalities, Lyndey Milan, and her actor/voice-over artist son, Blair, as they tour Greece's fascinating Peloponnese, seeking culinary delights, adventure and antiquities.
The result,
Lyndey & Blair's Taste of Greece
, showcases the cuisine, culture and beautifully undiscovered land of this region, which is so accessible to Athens. Over seven episodes, Lyndey and Blair cook, eat, drink and engage with the locals they meet along the way – a charming yet eclectic mix of home cooks, winemakers, producers, chefs and restaurateurs. While the cuisine of the Peloponnese has a starring role, the historic heart of Greece is not overlooked as ancient sites are explored with an adventurous edge, full of humour and insight.
The unique mother-son relationship between Lyndey and Blair adds another layer of fun and banter. Built up over 29 years, it has expected and unexpected complexities.
Sadly, earlier this year, Blair Milan passed away from acute myeloid leukemia. This show is a tribute to the affable, talented and life-loving young man he was.
Next On
Episode 2 : Corinth
Sunday 20 January 2013, 3:30PM
Lunch is eaten overlooking Ancient Corinth. At the Loutraki Thermal Spa, Lyndey and Blair separate – Blair swims in thermal waters...
Read More

Visit the SBS Shop online for DVDs and downloads of the programs you love.

Visit the SBS Shop online for fascinating books and inspiring cookbooks perfect for home and as gifts.