Spend three months in the life of one ordinary Australian family
The Cardamone family allowed 35 remote-controlled cameras to follow their every move, day and night, for three months. The result is a no-holds-barred view of the dynamics and universal themes of family life.

Dad Angelo, Mum Josephine, and their three boys - David (20), Stefan (18), and Adrian (14) - live in the outer suburbs of Melbourne. There is nothing unusual about them, except that they agreed to take part in this project. When we meet them, we find out Dad works in the construction industry, Mum in cosmetic sales, David is at uni, Stefan is in his last year of school, and Adrian is in Year 9. They have lots of friends and extended family who pop in.

Over eight weeks, we watch their lives unfold; from exam results to birthday parties, from pizza nights to Christmas celebrations - the stuff of everyday life. But by allowing such intimate filming of their lives the Cardamones also reveal all that is behind the ordinary. The emotions, the tensions, the strengths and the weaknesses that shape the way we all behave. It's not always pretty, but it's real.

The Family is about the Cardamones, but it is also about all of us. What makes us tick, how do we interact, and how do we celebrate, commiserate, and consider our lives?

Family Ties Interactive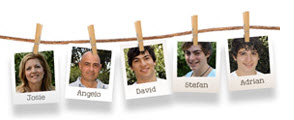 Get to know the Cardamones … as they show us how well they really know each other.
Go to videos
Read More
In Language
Have your say about The Family in your language with SBS Radio.


Read More
Next On
Episode 8 : What are You Going to Do?
Thursday 12 January 2012, 8:30PM
Stefan's year 12 results are due, with university offers not far behind. Angelo and Josie seem more uptight than he is, but is this just...
Read More